Rhinella proboscidea

Subgenus: margaritifera

family: Bufonidae

Species Description: Revalidation of Spix, 1824, species. Lavilla EO, Caramaschi U, Langone JA, Pombal Jr JP, de Sa RO 2013 The identity of Rana margaratifera Laurenti, 1786 (Anura, Bufonidae) Zootaxa 3646: 151- 264.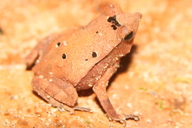 &copy 2009 Diogo B. Provete (1 of 4)

Conservation Status (definitions)
IUCN (Red List) Status
Least Concern (LC)
CITES
No CITES Listing

National Status
None
Regional Status
None
Description
Males 46-54 mm, females 46-55 mm. The skin is smooth in males and granular in females. The dorsal surface usually has irregular brown and black patches, but some individuals are almost uniform reddish or dark brown. There may be a light mid-dorsal line. The head is triangular, and the snout pointed. A line of tubercles extends from behind the eye along the side to the base of the legs. The belly is gray to brown.

Distribution and Habitat


Country distribution from AmphibiaWeb's database: Brazil, Colombia, Ecuador, Peru

Occurs throughout the Reserva Florestal Adolpho Ducke in Brazil.

Life History, Abundance, Activity, and Special Behaviors
The species is terrestrial and diurnal. In the Reserva Florestal Adolpho Ducke, the diet consists mainly of mites, ants, spiders, beetles and crickets. Reproduction occurs mainly between March and May. Breeding groups form for 2-3 days in pools or seeps near the headwaters of streams. Males call during the day and night, and more than 100 females can be found in one day at a single breeding site. Breeding groups form at different sites throughout the season, but it is not known whether individuals breed at different sites during a single breeding season. Clutches contain about 450 eggs.

Comments
Juveniles are similar to Dendrophryniscus minutus in general form, but the ventral surface of D. minutus is black at the front, and spotted black and white on the hind part.
---

Originally submitted by: Albertina P. Lima, William E. Magnusson, Marcelo Menin, Luciana K. Erdtmann, Domingos J. Rodrigues, Claudia Keller, Walter Hödl (first posted 2013-05-14)


Species Account Citation: AmphibiaWeb 2013 Rhinella proboscidea <https://amphibiaweb.org/species/8007> University of California, Berkeley, CA, USA. Accessed Apr 17, 2021.
---

Feedback or comments about this page.

Citation: AmphibiaWeb. 2021. <https://amphibiaweb.org> University of California, Berkeley, CA, USA. Accessed 17 Apr 2021.

AmphibiaWeb's policy on data use.