Rhinella proboscidea

Subgenus: margaritifera

family: Bufonidae

Species Description: Revalidation of Spix, 1824, species. Lavilla EO, Caramaschi U, Langone JA, Pombal Jr JP, de Sa RO 2013 The identity of Rana margaratifera Laurenti, 1786 (Anura, Bufonidae) Zootaxa 3646: 151- 264.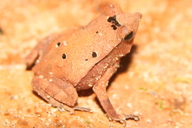 &copy 2009 Diogo B. Provete (1 of 4)

Conservation Status (definitions)
IUCN (Red List) Status
Least Concern (LC)
CITES
No CITES Listing

Other International Status
None
National Status
None
Regional Status
None
Vernacular Name
Sapo hocicudo
State/Provinces
Pastaza
Natural Regions
Bosque Húmedo Tropical Amazónico
Identification
Description
Color in Life
Color marrón con manchas más claras a lo largo del dorso y extremidades. Una línea dorsolateral amarilla y negra. Vientre blanquecino hacia la parte posterior y anaranjado hacia la parte de la garganta, con dispersas manchas obscuras irregulares (3, 6).
Males Face Cloacal Length Average
promedio = 49 mm (n = ?) (3
Females Face Cloacal Length Average
promedio = 54 mm (n = ?) (3
Habitat and Biology
Es una especie terrestre y nocturna. Vive en bosques tropicales maduros y secundarios (2).
Reproduction
Presenta una reproducción explosiva en pozas temporales en el suelo o en troncos de árboles caídos. Los machos cantan durante el día y la noche después de fuertes lluvias. Pueden encontrarse cantando cerca de pequeños riachuelos (7).
Distribution
En Ecuador, se conoce únicamente de una localidad en la Provincia de Pastaza (6).
Global Distribution
Altitudinal Range
A 817 metros sobre el nivel del mar en Ecuador
Taxonomy and Evolutionary Relationships
Etymology
El epíteto específico haría referencia a la forma de proboscis del hocico de esta especie.
Additional Information
Hoogmoed (3, 7) discute brevemente su estatus taxonómico.
Summary Author
Caty Frenkel, Andrea Varela-Jaramillo, Diego A. Paucar
Edition Date
2010-06-17T00:00:00
Update Date
2020-06-25T17:46:27.957
Literature Cited
Spix, J. B. 1824. Animalia nova sive Species novae Testudinum et Ranarum quas in itinere per Brasiliam annis MDCCCXVII-MDCCCXX jussu et auspiciis Maximiliani Josephi I. Bavariae Regis. Typis Franc. Seraph, Hübschmanni, Munich, Germany.PDF
IUCN, Conservation International y Nature Serve. 2004. Global Amphibian Assessment. www.globalamphibians.org. Consulta: 8 noviembre 2005.
Hoogmoed, M. S. 1986. Biosystematic studies of the Bufo typhonius group. A preliminary progress report. Pp. 147-150 en Rocek Z. (ed.). Studies in herpetology, Prague.
dos Santos, S. P., Ibáñez, R., Ron, S. R. 2015. Systematics of the Rhinella margaritifera complex (Anura, Bufonidae) from western Ecuador and Panama with insights in the biogeography of Rhinella alata. ZooKeys 501:109-145.PDF
Duellman, W. E. y Lynch, J. D. 1988. Anuran amphibians from the Cordillera de Cutucu, Ecuador. Proceedings of the Academy of Natural Science of Philadelphia :125-142.PDF
Hoogmoed, M.S.1990. Biosystematics of South American Bufonidae, with special reference to the Bufo "typhonius" group. Vertebrates in the Tropics.PDF
Borges, A., Ferreira dos Santos, T., Frazão, L., Marques-Souza, S., Menin, M. 2019. Food habits of Rhinella proboscidea (Anura: Bufonidae) in terra firme forests of central Amazonia. Phyllomedusa 18: 37—46.