Incilius valliceps
Southern Gulf Coast Toad, Gulf Coast Toad
family: Bufonidae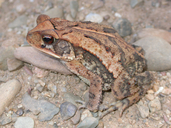 &copy 2006 Nathan Nazdrowicz (1 of 18)

Conservation Status (definitions)
IUCN (Red List) Status
Least Concern (LC)
CITES
No CITES Listing

Other International Status
None
National Status
None
Regional Status
None
Bufo valliceps Wiegmann, 1833
            Gulf Coast Toad
Joseph R. Mendelson III1

            I follow Mulcahy and Mendelson (2000) in recognizing Coastal-Plain toads (Bufo nebulifer) as a species distinct from Gulf Coast toads (Bufo valliceps).  This study was based on an analysis of mtDNA sequences and corroborated comments by Mendelson (1998) that showed the northern and southern populations of the widespread taxon Bufo valliceps were likely not conspecific.  The taxon Bufo nebulifer was proposed by Girard (1854) as a replacement name for the preoccupied taxon Bufo granulosus Baird and Girard, 1852a, type locality: "between Indianola and San Antonio, Texas."  Mulcahy and Mendelson (2000) resurrected the taxon B. nebulifer  from the synonymy of B. valliceps Wiegmann, 1833, and applied it to populations generally north of the coastal village of Palma Sola, Veracruz, Mexico.  Further discussions of variation in B. valliceps with respect to B. nebulifer appear in Mendelson (1998) and McCranie and Köhler (2000).  Note that the vast majority of literature regarding B. valliceps—especially that relevant to natural history and behavior—actually considers northerly populations now referred to as Coastal-Plain toads (B. nebulifer).
Family Bufonidae
            Bufo velatus Bragg and Sanders, 1951
            East Texas Toad
            Editor's note: Following Crother et al. (2000), we do not cover East Texas toads (Bufo velatus) as a separate species.  However, there is controversy here.  The arguments for considering these animals as distinct are presented by Dixon (2000) and are as follows.
            "The name associated with this taxon has caused controversy since 1952.  Conant [1958a] and Conant and Collins [1991, 1998] refuse to recognize the species velatus, believing it to be of hybrid origin.  Sanders [1953, 1978, 1986, 1987] considers it a valid species."
            Dixon (2000) continues: "Bufo velatus does not represent a[n] intergrade population between [Woodhouse's toads] B. w. woodhousii and [Fowler's toads] B. f. fowleri.  According to Conant and Collins [1998], B. w. fowleri has a 'virtually unspotted chest and belly,' three or more warts in each of the largest dorsal dark spots, no greatly enlarged warts of the tibia, and a parotoid gland that reaches the cranial ridge behind the eye.  According to Bragg and Sanders [1951], the chest and occasionally the belly of B. velatus is highly spotted, the dorsum is darker, and the call is somewhat different.  This toad is also considerably smaller in snout-urostyle length than typical B. w. woodhousii, but closer to the size of B. w. fowleri." 
            Dixon (2000) concludes: "I will follow Sanders [1986] until genetic and call differentiation studies are completed for this toad." 
            Those interested in the biology of "Bufo velatus" are referred to Bragg and Sanders (1951) and Sanders (1953, 1978, 1986, 1987).
1Joseph R. Mendelson III
Department of Biology
Utah State University
Logan, Utah 84322-5305
sapo@biology.usu.edu
---
Literature references for Amphibian Declines: The Conservation Status of United States Species, edited by Michael Lannoo, are here.
---

Feedback or comments about this page.

Citation: AmphibiaWeb. 2020. <http://amphibiaweb.org> University of California, Berkeley, CA, USA. Accessed 26 Sep 2020.

AmphibiaWeb's policy on data use.