Boana calcarata
Convict Treefrog
family: Hylidae
subfamily: Hylinae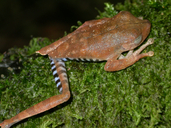 &copy 2006 Nathan Nazdrowicz (1 of 18)

Conservation Status (definitions)
IUCN (Red List) Status
Least Concern (LC)
CITES
No CITES Listing

National Status
None
Regional Status
None
Description

Hypsiboas calcaratus is a treefrog with a snout-vent length of between 27.91 – 36.27 mm for males and between 45.94 – 56.29 mm for females. The head is narrowed with large round protruding eyes and curved tympanic membrane. The body of the species is slender with smooth, sticky skin and is characterized by sharp, long dermal spurs at the heel joint. The fingers of this species are basally webbed with the inner finger being free. Its feet contain webbing and projecting spines from the proximal end of the humerus in males (Caminer and Ron 2014, Duellman 1989).
This species does not necessarily have any specific characteristics the make it completely different from closely related species, but the combination of its characteristics makes the species different from its counterparts. This species is most similar to H. fasciatus and H. almendarizae. This species differs from those by its large, triangular calcar compared to that of H. fasciatus and H. almendarizae's small, conical calcar and large, conical calcar respectively. These species are also different in the number of notes in their individual advertisement calls. Hypsiboas calcaratus is also different in its iris by having an upper band distinguished with a yellow to orange tone compared to that of the Hypsiboas fasciatus, which has a red to reddish brown tone. This species also has narrower dark bands on its thighs and flanks (Caminer and Ron 2014).
In life: Hypsiboas calcaratus is distinguished by the species dark brown middorsal line and white to yellowish brown colored belly. Dorsal surfaces range from light brown to brown to even reddish brown in some cases. The body also contains a black longitudinal stripe down its back. This species has an iris with a creamy silver or bronze coloration that is characterized by a yellow to orange band in the upper portion of it body. The limbs of this species are pale brown on the dorsal surface while the ventral surface of its thighs are white. The webbing of its fingers has a tan like coloration. There are also dark transverse bars on its legs. Some individuals will have brown transversal bands on their legs. The species also has pale brown to gray flanks that are light blue or white on females (Caminer and Ron 2014).
In preservative: The body color in alcohol is reddish-brown with a black longitudinal stripe down the middle of the smooth back (Duellman 1989).
Distribution and Habitat

Country distribution from AmphibiaWeb's database: Brazil, Ecuador, French Guiana, Guyana, Peru, Suriname
This species is found for the most part in the Amazon Basin from southern Colombia and adjacent Ecuador south through Peru to northern Bolivia, the Guianas and the upper Orinoco Basin in Venezuela and Brazil. Hypsiboas calcaratus generally occurs below 400m asl but can occur at up to 1,000m asl in Ecuador.
Life History, Abundance, Activity, and Special Behaviors
The acoustic parameters of the call for this species include 1780.50 ± 112.73 (Hz) under a single note. This call contains around 13 - 15 pulses with about 10 – 14 seconds between calls. This data is based on data from a recording temperature between 23.9 - 25.6 oC (Caminer and Ron 2014).
Trends and Threats
Forest conversion, logging, clear cutting, and fire all pose as major threats to this species. However, the species recent appearance in secondary forests and man made open areas suggests some tolerance to human habitat disturbance (Caminer and Ron 2014).
Possible reasons for amphibian decline
General habitat alteration and loss
Habitat modification from deforestation, or logging related activities
Secondary succession
Habitat fragmentation

Comments
Hypsiboas calcaratus was previously synonymous with Hyla leptoscelis (Boulenger, 1918), but has since been separated based on genetic data (Caminer and Ron 2014).
Genetic data also moved Hypsiboas calcaratus from the genus Hyla to genus Hypsiboas (Faivovich et al. 2005).
The type specimen for Hypsiboas calcaratus has been lost (Caminer and Ron 2014).
References

Caminer M.A., Ron S.R. (2014). ''Systematics of treefrogs of the Hypsiboas calcaratus and Hypsiboas fasciatus species complex (Anura, Hylidae) with the description of four new species.'' ZooKeys, 370, 1–68. [link]
Claudia Azevedo-Ramos, Enrique La Marca, Luis A. Coloma, Santiago Ron 2010. Hypsiboas calcaratus. The IUCN Red List of Threatened Species. Version 2014.3. . Downloaded on 09 February 2015.

Duellman, William E. ''Frogs of the Hyla Geographica Group.'' Copeia 3 (1973): 515-33. Print.

Faivovich, J., Haddad, C. F. B., Garcia, P. C. A., Frost, D. R., Campbell, J. A., Wheeler, W. C. (2005). ''Systematic review of the frog family Hylidae, with special reference to Hylinae: phylogenetic analysis and taxonomic revision.'' Bulletin of the American Museum of Natural History, (294), 1-240. [link]
---

Originally submitted by: Shakil Huq (first posted 2015-04-20)

Edited by: Ann T. Chang (2017-08-13)

Species Account Citation: AmphibiaWeb 2017 Boana calcarata: Convict Treefrog <https://amphibiaweb.org/species/748> University of California, Berkeley, CA, USA. Accessed Apr 21, 2021.
---

Feedback or comments about this page.

Citation: AmphibiaWeb. 2021. <https://amphibiaweb.org> University of California, Berkeley, CA, USA. Accessed 21 Apr 2021.

AmphibiaWeb's policy on data use.