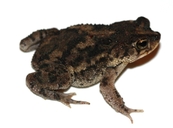 &copy 2013 Thiago R. Carvalho (1 of 2)
| | |
| --- | --- |
| | hear call (819.5K WAV file) |
Range Description
This species is known only from Rio de Janeiro State in coastal Brazil. It occurs at very low elevations, from sea level up to only about 50m asl.
Habitat and Ecology
This species lives underground then emerges to breed around standing waterbodies in restinga (shrubland) vegetation and forest. It breeds in shallow temporary rain pools. It is an explosive breeder. It can also occur in urban gardens where rain puddles develop.
Population
It is a very common species.
Population Trend
stable
Major Threats
Habitat loss due to infrastructure development is a threat, although it is able to live in gardens where there are rain pools. It is sometimes found in the international pet trade but at levels that do not currently constitute a major threat.
Conservation Actions
The range of the species includes several protected areas. More research into the species' Extent of Occurrence is needed.
Red List Status
Least Concern (LC)
Rationale
Listed as Least Concern since, although its Extent of Occurrence is probably not much greater than 20,000 km2, it is common and adaptable with a presumed large population, and it is unlikely to be declining fast enough to qualify for listing in a more threatened category.
Taxonomic Notes
This species has often been considered a subspecies of Rhinella granulosa (e.g. Gallardo (1965)). Céspedez (2000) separated R. pygmaea into two species: R. pygmaea of coastal Brazil and R. bergi in the interior of the continent.
Citation
Sergio Potsch de Carvalho-e-Silva, Ana Maria Telles 2004. Rhinella pygmaea. The IUCN Red List of Threatened Species 2004: e.T54740A11197530. http://dx.doi.org/10.2305/IUCN.UK.2004.RLTS.T54740A11197530.en .Downloaded on 21 February 2019
IUCN Terms of Use