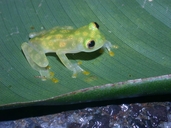 &copy 2007 Shawn Mallan (1 of 45)

Description
Hyalinobatrachium fleischmanni is a relatively small frog with males ranging from 19.2 to 25.5 mm (Wild, 2003) and females reaching 23 to 32 mm (Guyer, 2005; Savage, 2002). This frog has a relatively flattened body, broad head, round snout, and forward-directed eyes. It has pale green skin with yellow or yellowish green spots and a white, partly transparent belly showing tiny white bones (Wild, 2003). The heart and anterior half of the liver are obscured by a white sheet of guanine. This layer of guanine also wraps around its digestive system (Guyer, 2005). Fingertips are yellow (Wild, 2003). The eye has a gold-colored iris surrounding a horizontally elliptical pupil (Leenders, 2001).

Hyalinobatrachium fleischmanni is very similar in size and color to the Yellow-flecked Glassfrog (Cochranella albomaculata) and the Powdered Glassfrog (Hyalinobatrachium pulveratum). However, the latter two species have exposed digestive organs which are not wrapped in a white guanine sheath (Guyer, 2005).

Distribution and Habitat


Country distribution from AmphibiaWeb's database: Costa Rica, El Salvador, Honduras, Nicaragua

This frog ranges from Guerrero and Veracruz, Mexico, through Central America to Colombia, Venezuela, Guyana, and Surinam (Wild, 2003). It is arboreal and inhabits vegetation near moderate to fast flowing stream at lower elevation (Wild, 2003), sometimes in pastures and cleared sites (Savage, 2002).

Trends and Threats
Hyalinobatrachium fleischmanni is probably the most abundant glass frog in Costa Rica. It is not threatened (Leenders, 2001).

Comments
This species was featured in News of the Week 4 April 2022:
The evolutionary transition to terrestriality and terrestrial breeding in amphibians has occurred repeatedly, but have the required key adaptations, e.g., resistance to desiccation and toxic ammonia build-up, likewise been repeated? Méndez-Narváez and Warkentin (2022) examined this question in a comparative study of four frog lineages, contrasting either short (Agalychnis callidryas, Engystomops pustulosus) or long (Hyalinobatrachium fleischmanni, Leptodactylus fragilis) larval exposure to desiccating conditions. They carried out experiments in an open lab in the rainforests of Gamboa, Panama (Smithsonian Tropical Research Institution). By manipulating environmental conditions (wet vs. dry) and tracking levels of ammonia and urea excretion, they evaluated the tolerance to ammonia exhibited by larvae of each species. They found the two species (H. fleischmanni, L. fragilis) which experience the highest risk of desiccation showed clear evidence for urea production and for pronounced increases in urea excretion, whereas the other two did not. Without urea excretion, the larvae of the high-risk species could experience lethal conditions, providing a clear case for the adaptive value of urea production in these species. They also compared the two foam-nesting species (E. pustulosus, L. fragilis) and two leaf-breeding species (H. fleischmanni, A. callidryas), demonstrating the similar changes in nitrogen metabolism in response to desiccation risk in both comparisons. Their study provides important evidence for the potentially key role of adaptive plasticity in mediating major evolutionary changes. (Written by Kyle Summers)
This species was featured in News of the Week 6 March 2023:
One of the most remarkable forms of camouflage observed in nature involves transparency in glass frogs of the family Centrolenidae. These frogs, which are arboreal and typically perch on leaves, have highly transparent ventral skin through which their organs can be clearly seen, as well as green dorsal coloration and green bones that presumably enhance their camouflage. One feature that might disrupt their camouflage is the presence of red blood cells, which are easily seen through the transparent ventral skin. Recently Taboada et al. (2022) showed that the glass frog species Hyalinobatrachium fleischmanni increase their transparency while resting by two to three-fold by removing about 89% of their red blood cells from circulation and packing them within their liver. This exciting new discovery not only provides new information on the nature of transparency in glass frogs but may also inform biomedical research because the ability to densely pack red blood cells into the liver without clotting could have important human health consequences. (Written by Jim McGuire)
References

Guyer, C., and Donnelly, M. A. (2005). Amphibians and Reptiles of La Selva, Costa Rica and the Caribbean Slope: A Comprehensive Guide. University of California Press, Berkeley.
Leenders, T. (2001). A Guide to Amphibians And Reptiles of Costa Rica. Zona Tropical, Miami.
Savage, J. M. (2002). The Amphibians and Reptiles of Costa Rica:a herpetofauna between two continents, between two seas. University of Chicago Press, Chicago, Illinois, USA and London.
Wild, E. R. (2003). ''Fleischmann's glass frog, Hyalinobatrachium fleischmanni.'' Grzimek's Animal Life Encyclopedia, Volume 6, Amphibians. 2nd edition. M. Hutchins, W. E. Duellman, and N. Schlager, eds., Gale Group, Farmington Hills, Michigan.
---

Originally submitted by: Peera Chantasirivisal (first posted 2005-10-20)
Edited by: Kellie Whittaker (2023-03-05)

Species Account Citation: AmphibiaWeb 2023 Hyalinobatrachium fleischmanni: Fleischmann's Glass Frog <https://amphibiaweb.org/species/1813> University of California, Berkeley, CA, USA. Accessed Sep 29, 2023.
---

Feedback or comments about this page.

Citation: AmphibiaWeb. 2023. <https://amphibiaweb.org> University of California, Berkeley, CA, USA. Accessed 29 Sep 2023.

AmphibiaWeb's policy on data use.