Rhinella icterica
Yellow Cururu Toad
family: Bufonidae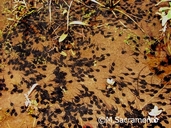 &copy 2009 Mario Sacramento (1 of 42)
| | |
| --- | --- |
| | hear call (530.0K MP3 file) |
Description
A large robust toad (adult male :100-166 mm; adult female : 135-190 mm). Body stout; strong cephalic crests and large parotoid glands on head. Tympanum small, higher than wide. Skin of dorsum scattered with blunt thorny warts, especially in males; dorsum yellowish in females and juveniles with a regular pattern of black blotches and a wide light-colored middorsal stripe. The color of the male dorsum is often a bright greenish yellow with only a few black blotches; belly white, marbled with brown.

Distribution and Habitat


Country distribution from AmphibiaWeb's database: Argentina, Brazil, Paraguay

The rain forest (Mata Atlântica) of southeastern and southern Brazil, eastern Paraguay, and also in Misiones (Argentina). Usually in elevated forests, also in grassland. During breeding time, they are found in streams and standing water bodies, such as lakes, ponds or puddles.

Life History, Abundance, Activity, and Special Behaviors
Spawning period from August to January. In November and December hundreds of the diurnal, only 9-10 mm sized, recently metamorphosed froglets leave the breeding places en mass. Males call in and at water bodies, mainly at night but also during the day. The call is a melodious tremolo (pointed out by the indigenous name "Cururu"). The large egg strings with several thousand dark-colored eggs are deposited at shallow water. The small, black, free-swimming larvae live in large congregations, feeding on suspension and grazing on stones and aquatic plants. Most of adult trods are "Sit-and-Wait-Predators" feeding on invertebrates especially Coleoptera and Formicidae.

Possible reasons for amphibian decline
General habitat alteration and loss
Habitat modification from deforestation, or logging related activities
Local pesticides, fertilizers, and pollutants

Comments
Toads from the Eldorado locality, in Misiones, near the Paraná borders, show remarkable morphological peculiarities, with characters both of B. schneideri, as the shape of the dorsal warts or the presence of tibial glands, and of B. ictericus, as the parotoid shape or the dorsal pattern. More available biological data are needed to make clear the identity of such a mixed or intermediate population.
References

Beckmann, O. (2003). ''Reproduktion und Ernährung der Kröte Bufo ictericus im Waldschutzgebiet Pró-Mata, Araukarienplateau, Rio Grande do Sul, Brasilien.''
Cei, J. M. (1980). ''Amphibians of Argentina.'' Monitore Zoologica Italiano, New Series Monografia, Firenze, 2, 1-609.
Kwet, A. and Di-Bernardo, M. (1999). Anfíbios - Amphibien - Amphibians. EDIPUCRS, Porto Alegre.
---

Originally submitted by: Sabine Eger, Nalani Schnell & Mirco Sole (first posted 2004-05-27)
Edited by: Tate Tunstall, Michelle S. Koo (2021-10-11)

Species Account Citation: AmphibiaWeb 2021 Rhinella icterica: Yellow Cururu Toad <https://amphibiaweb.org/species/200> University of California, Berkeley, CA, USA. Accessed Oct 17, 2021.
---

Feedback or comments about this page.

Citation: AmphibiaWeb. 2021. <https://amphibiaweb.org> University of California, Berkeley, CA, USA. Accessed 17 Oct 2021.

AmphibiaWeb's policy on data use.