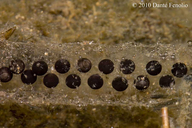 &copy 2010 Danté B Fenolio (1 of 4)

Conservation Status (definitions)
IUCN (Red List) Status
Near Threatened (NT)
CITES


Other International Status
None
National Status
None
Regional Status
None
Range Description
This species has a wide distribution from Coquimbo to Arauco Gulf, Chile, at elevations of 0-1,500 m asl. It has an extent of occurrence of 87,243 km2.
Habitat and Ecology
It occurs near rivers, streams, reservoirs and ponds. Adults hide in small holes or under stones during the daytime. At night they can be found on land, relatively far from water sources. It reproduces in water near where it lives. The tadpoles are free swimming. There is hybridization with R. atacamensis in the Coquimbo and Valparaíso regions (Correa et al. 2013).
Population
The species is locally abundant, with thousands of larvae at some sites. However, a population decline in the range of 20-25% has occurred over the past 10 years due to the decline in habitat quality and extent.
Population Trend
decreasing
Major Threats
Habitat destruction is a threat to this species, as is water pollution caused by agriculture, for example pine plantations, agricultural crops and cattle. Surface water is diverted for human consumption, agriculture and timber plantations. Droughts also affect this species. It occurs in one of the most populated areas of Chile. Exotic fish and Xenopus laevis probably predate on this frog.
Conservation Actions
Conservation Actions
The species occurs in several protected areas. 

Conservation Needed
The prevention of water pollution is needed.
Red List Status
Near Threatened (NT)
Rationale
Listed as Near Threatened because, despite its wide distribution, habitat quality and extent have declined significantly in the past 10 years (and even more in previous decades). Droughts, invasive species, and pollution affect this species and have led to a population decline in the range of 20-25% over the past 10 years. Hence, the species almost qualifies for listing as Vulnerable under criterion A2.
Citation
IUCN SSC Amphibian Specialist Group 2015. Rhinella arunco. The IUCN Red List of Threatened Species 2015: e.T54577A79810607. http://dx.doi.org/10.2305/IUCN.UK.2015-4.RLTS.T54577A79810607.en .Downloaded on 19 February 2019
IUCN Terms of Use