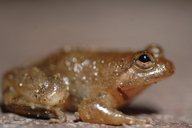 &copy 2011 Pierre Fidenci (1 of 7)

Description
Description: Occidozyga laevis is a squat and stocky ranid. The SVL reaches up to 31 mm for males and 48 mm for females (Inger and Stuebing 2005). The body is stout with a small head (Alcala and Brown 1998). The skin of the dorsal surfaces is corrugated with rounded protrusions (Inger and Stuebing 2005). Legs are very muscular and short with fully webbed toes (Alcala and Brown 1998).

Diagnosis: Adults of this species resemble young Limnonectes kuhlii, but can be distinguished by having an interorbital distance equal to or less than the width of the eyelid (The interorbital distance is greater than the width of the eyelid in L. kuhlii), and by having a single tooth-like projection on the lower jaw (a pair is present in L. kuhlii) (Inger and Stuebing 2005).

Coloration: The ground color is dark gray-brown. The ventral side of the head is a speckled dark gray and a yellow tinge is sometimes present on the venter and undersides of the thighs (Inger and Stuebing 2005).

Variation: Some individuals may have a thick light stripe down the dorsum (Inger and Stuebing 2005).

Tadpole Morphology: Tadpoles are small and slender, reaching a total length of 25 mm, with the tail length greater than two times the body length (Inger and Stuebing 2005). Tadpoles have tubular mouths and lack teeth (Alcala and Brown 1998). The body has dark spotting, along the fin margins (Inger and Stuebing 2005).

Distribution and Habitat


Country distribution from AmphibiaWeb's database: Indonesia, Malaysia, Philippines, Thailand

Malaysian region distribution from AmphibiaWeb's database: Peninsular Malaysia, Sabah, Sarawak

O. laevis is distributed widely in Southeast Asia, at elevations up to 1200 m asl. This frog is found in a range of habitats, from polluted puddles and marshes to clear mountain streams. In peninsular Southeast Asia, it is found near forest streams, in shallow muddy puddles. This species inhabits forested areas, but not disturbed areas. In the Philippines, it can tolerate some disturbed habitat. It also inhabits some pristine lower montane and lowland forests (Alcala and Brown 1998; Diesmos et al. 2004). In Borneo, this species is abundant in muddy wallows and small streams (Zainudden 1999).

Life History, Abundance, Activity, and Special Behaviors
This species is active both diurnally and nocturnally. O. laevis is primarily aquatic, submersing its entire body in the water except for its snout and eyes (Alcala and Brown 1998). It is oviparous and has aquatic larvae. O. laevis has unusual forelimb movement for a frog. O. laevis catches and moves its prey by extending its forelimbs, fingers splayed, and scooping the prey towards its mouth (Gray et al. 1997).

Trends and Threats

O. laevis can tolerate some human disturbance and the populations currently do not show a great degree of disturbance. However, the populations could suffer habitat loss from its most likely threat, deforestation (Diesmos et al. 2004).

Possible reasons for amphibian decline
General habitat alteration and loss
Habitat modification from deforestation, or logging related activities
Habitat fragmentation

Comments
Species authority: Günther (1858) (Frost et al. 2011).
References

Alcala, A. C. and Brown, W. C. (1998). Philippine Amphibians: Illustrated Field Guide. Bookmark, Inc., Philippines.
Diesmos, A., Alcala, A., Brown, R., Afuang, L., Gee, G., Sukumaran, J., Yaakob, N., Ming, L. T., Chuaynkern, Y., Thirakhupt, K., Das, I., Iskandar, D., Mumpuni, Inger, R., Stuebing, R., Yambun, P., and Lakim, M. (2004). Occidozyga laevis. In: IUCN 2010. IUCN Red List of Threatened Species. Version 2010.4. www.iucnredlist.org. Downloaded on 31 March 2011.
Frost, D. (2011). Amphibian Species of the World: an Online Reference. Version 5.5.
Gray, L. A., O'Reilly, J. C. and Nishikawa, K. C. (1997). ''Evolution of forelimb movement patterns for prey manipulation in anurans.'' The Journal of Experimental Zoology, 277, 417-427.
Inger, R. F. and Stuebing, R. B. (2005). A Field Guide to the Frogs of Borneo, 2nd edition. Natural History Publications (Borneo), Kota Kinabalu.
Zainuddin, R. (1999). ''A brief note on frogs of Bario, Kelabit Highlands, Sarawak.'' ASEAN Review of Biodiversity and Environmental Conservation (ARBEC), September-October, 1-5.
---

Originally submitted by: Christine Isabel Javier (first posted 2011-03-29)
Edited by: Kellie Whittaker, Mingna (Vicky) Zhuang (2014-10-29)

Species Account Citation: AmphibiaWeb 2014 Phrynoglossus laevis: Puddle Frog <https://amphibiaweb.org/species/4849> University of California, Berkeley, CA, USA. Accessed Sep 22, 2023.
---

Feedback or comments about this page.

Citation: AmphibiaWeb. 2023. <https://amphibiaweb.org> University of California, Berkeley, CA, USA. Accessed 22 Sep 2023.

AmphibiaWeb's policy on data use.