Nymphargus ignotus

family: Centrolenidae
subfamily: Centroleninae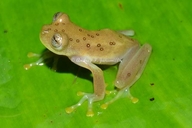 &copy 2013 Andres Felipe Jaramillo (1 of 1)

Conservation Status (definitions)
IUCN (Red List) Status
Least Concern (LC)
CITES


Other International Status
None
National Status
None
Regional Status
None
Range Description
This species is known from Chocó, Antioquia, Cauca, Valle de Cauca and Risaralda Departments, on the western flank of the western Andes, Colombia. Its altitudinal range is 1,280–2,000 m Asl (Bernal and Lynch 2008).
Habitat and Ecology
It occurs on vegetation next to streams in primary sub-Andean forests. Eggs are laid on the upper surface of leaves and when hatched the larvae fall into the water below where they then develop further.
Population
Formerly common, it is now considered to be an uncommon species and therefore it is inferred that the population is decreasing. During 2008–2009, visual encounter surveys in Reserva Forestal Protectora del Río Bitaco, Valle del Cauca, detected 35 individuals in riparian forest habitats over 35 person-hours (Méndez-Narváez and Bolívar-G 2016). The population is not considered severely fragmented.
Population Trend
decreasing
Major Threats
Localized threats include habitat fragmentation and loss due to logging, agriculture, livestock, illegal mining activities, and pollution of water sources. Batrachochytrium dendrobatidis has been reported in the range of the species, but there is no evidence on how it may be affected (W. Bolívar pers. comm. August 2016).
Conservation Actions
Conservation Actions
This species occurs in Parque Nacional Natural Farallones de Cali, Parque Nacional Natural Tatamá, Reserva Forestal Protectora del Río Bitaco, and Parque Nacional de Las Orquídeas.

Research Needed
More information is needed on this species' distribution, population status, natural history, and threats. Studies are needed to obtain information on its susceptibility to threatening processes, including chytrid fungus. Taxonomic work is needed to determine if this form is a complex of more than one species.
Red List Status
Least Concern (LC)
Rationale
Listed as Least Concern because although the distribution and extent of occurrence (EOO) is somewhat restricted (EOO of 16,563 km2), the population trend appears to be stable, threats are mostly localized, and it is found in several protected areas.
Taxonomic Notes
It is considered as a species complex (W. Bolívar pers comm. 2016).
Citation
IUCN SSC Amphibian Specialist Group 2017. Nymphargus ignotus. The IUCN Red List of Threatened Species 2017: e.T54966A85873416. http://dx.doi.org/10.2305/IUCN.UK.2017-2.RLTS.T54966A85873416.en .Downloaded on 20 February 2019
IUCN Terms of Use