Microhyla heymonsi

family: Microhylidae
subfamily: Microhylinae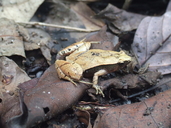 &copy 2010 Wouter Beukema (1 of 22)
| | |
| --- | --- |
| | hear call (521.3K MP3 file) |
Range Description
This species occurs in central, southern and south-western China, Myanmar, Thailand, Lao People's Democratic Republic, Viet Nam, Cambodia, Peninsular Malaysia, Singapore and Indonesia, including major islands such as Taiwan, Province of China, Hainan, Sumatra, Penang, Siberut, Phuket as well as Great Nicobar Island, India. It occurs up to 1,400m asl.
Habitat and Ecology
It inhabits disturbed areas such as riverbanks, gardens, fire-maintained grassy areas, paddy fields and savannah forest as well as secondary vegetation. It breeds in temporary rain puddles, paddy fields, ditches, marshes and slow-flowing streams.
Population
It is generally abundant in appropriate habitats.
Population Trend
stable
Major Threats
Clear-cutting of forests might threaten the species is some parts of its range. It is eaten in northern Thailand, but this is not considered to be a threat.
Conservation Actions
Many protected areas in the region support this species. It is a Class II protected species in Taiwan, Province of China.
Red List Status
Least Concern (LC)
Rationale
Listed as Least Concern in view of its wide distribution, tolerance of a broad range of habitats, presumed large population, and because it is unlikely to be declining fast enough to qualify for listing in a more threatened category.
Citation
Peter Paul van Dijk, Djoko Iskandar, Lue Kuangyang, Chou Wenhao, Geng Baorong, Zhao Ermi, Sushil Dutta 2004. Microhyla heymonsi. The IUCN Red List of Threatened Species 2004: e.T57882A11685861. http://dx.doi.org/10.2305/IUCN.UK.2004.RLTS.T57882A11685861.en .Downloaded on 21 February 2019
IUCN Terms of Use