Ingerophrynus biporcatus
Crested Toad, Kodok Puru Hutan
family: Bufonidae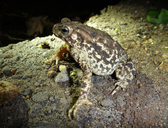 &copy 2012 Sean Reilly (1 of 1)

Conservation Status (definitions)
IUCN (Red List) Status
Least Concern (LC)
CITES
No CITES Listing

Other International Status
None
National Status
None
Regional Status
None
Description
Bufo biporcatus has a moderately-sized but stout body. The females of this species are typically larger than the males. The females have a snout-vent length of 60-80 mm, while males have a snout-vent length of 55-70 mm. Members of this species exhibit two elongated supraparietal ridges between the eyes; the species' name is derived from these ridges. Small and distinct parotoid glands are present. The skin is wrinkled and covered with tubercles. The tympanum is visible and may be circular or somewhat elliptical. Toes are half-webbed (Iskandar, 1998) except for the fourth toe (Church, 1960a). Dorsal coloration is brown (may be a reddish or grayish shade), mottled with darker blotches. Male B. biporcatus generally have red throats (Iskandar, 1998). The color pattern is lighter in populations from east (Lombok) to west (Bali, Java) within the species range (Church, 1960a).

The tadpoles are small, with the tail usually no longer than double the head plus body length, and a denticle formula of I+1-1/III. Papillae are confined to the corner of the mouth, and the mouth is not adapted for stream-dwelling (Iskandar, 1998).

Distribution and Habitat


Country distribution from AmphibiaWeb's database: Indonesia

This species is endemic to Indonesia and is found in Sumatra, Java, Madura, Bali, and Lombok, as well as having been introduced in Sulawesi. It occurs at lower elevation (up to 700 m) in both primary and secondary forest, as well as in areas of human habitation on Bali and Lombok. In Java it tends to be restricted to more forested regions (Iskandar, 1998).

Life History, Abundance, Activity, and Special Behaviors


Males call at night from the water (Marquez and Eekhout, 2006), especially during a full moon (Iskandar, 1998). Usually groups of 2-3 males call, separated by 1-1.5 m (Marquez and Eekhout, 2006). Advertisement calls usually consisted of 8-10 paired, complex pulses (Martin's Type II; Marquez and Eekhout, 2006; Martin, 1971), with occasional calls of 4 or 6 pulses. The dominant frequency of the advertisement call was about 1.7 kHz, with an average duration of 567 msec, a pulse rate of 9.1 pulses per second and an intercall duration of 1363 msec.

This species also has a release call, which consists of a series of pulses with an average duration of 16 msec. The dominant (and fundamental) frequency of the release call was about 1.5 kHz, and two or three harmonics were present, every 0.5-0.6 kHz.

Call factors with low variation (both within and between individuals) are likely to convey information useful for species recognition, while call factors with high variation may convey information about the status of individual males. For Bufo biporcatus, the dominant frequency shows low between-individual variation, while pulse rate is more variable and may give females a basis on which to choose males (Marquez and Eekhout, 2006). Bufo biporcatus is found in or near flooded rice sawahs, pools and streams (Church, 1960). This species prefers to lay eggs in stagnant water. Females of this species lay several hundred eggs in a string (Iskandar, 1998). Once the eggs hatch, the duration of the larval period has been reported to be 39 days for B. biporcatus in Sarawak (Inger, 1966).

Trends and Threats
Although B. biporcatus is relatively abundant, agriculture and logging present threats. It is also vulnerable to competition. In Bali, introduced B. melanostictus were reported to displace or eliminate B. biporcatus wherever the two species came into contact, particularly in drier, more open and urban areas (Church, 1960b).

Possible reasons for amphibian decline
General habitat alteration and loss
Habitat modification from deforestation, or logging related activities
Intensified agriculture or grazing
Introduced competitors

Comments
Bufo biporcatus is related to the following species: B. claviger , B. parvus , B. philippinicus , B. divergens , and B. quadriporcatus . In particular, Bufo clavicus and B. divergens resemble B. biporcatus, but B. claviger has an enlarged interorbital ridge behind the eyes, and B. divergens is smaller with a noticeably sloping snout.
The diploid chromosome number is 22, consisting of five pairs of large chromosomes plus six pairs of smaller chromosomes.
References

Church, G. (1960). ''A comparison of a Javanese and a Balinese population of Bufo biporcatus with a population from Lombok.'' Herpetologica, 16(1), 23-28.
Church, G. (1960). ''The invasion of Bali by Bufo melanostictus.'' Herpetologica, 16(1), 15-21.
Inger, R. F. (1966). ''The systematics and zoogeography of the Amphibia of Borneo.'' Fieldiana Zoology, 52, 1-402.
Iskandar, D. T. (1998). The Amphibians of Java and Bali. Research and Development Centre for Biology-LIPI, Bogor, Indonesia.
Márquez, R. and Eekhout, X. R. (2006). ''Advertisement calls of six species of anurans from Bali, Republic of Indonesia.'' Journal of Natural History, 40, 571-588.
---

Written by Janel Marcelino (janel_m AT berkeley.edu), AmphibiaWeb intern
First submitted 2006-04-06
Edited by Kellie Whittaker (2008-01-01)

Species Account Citation: AmphibiaWeb 2008 Ingerophrynus biporcatus: Crested Toad <http://amphibiaweb.org/species/118> University of California, Berkeley, CA, USA. Accessed Sep 26, 2020.
---

Feedback or comments about this page.

Citation: AmphibiaWeb. 2020. <http://amphibiaweb.org> University of California, Berkeley, CA, USA. Accessed 26 Sep 2020.

AmphibiaWeb's policy on data use.