Cophixalus ornatus
Ornate Frog
family: Microhylidae
subfamily: Asterophryinae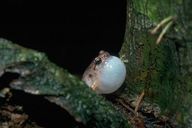 &copy 2002 Jean-Marc Hero (1 of 3)
| | |
| --- | --- |
| | hear call (847.7K MP3 file) |
| | hear call (6228.1K WAV file) |
Distribution and Habitat


Country distribution from AmphibiaWeb's database: Australia

Found in mid-eastern Queensland between Mossman and Townsville. The area of occurrence of the species is approximately 14400 km2.

Life History, Abundance, Activity, and Special Behaviors
Found in rainforest from 0 – 1500m. Hides under ground cover, logs and rocks by day. By night males call from either the ground or more commonly from shrubs and trees up to 2m off the ground. Terrestrial breeder. Lays between 11 and 22 eggs in a string in a concealed position. An adult frog generally tends the nest.

Trends and Threats
No declines recorded and large extent of occurrence.

Threats
Occurs in National Parks in the Wet Tropics. Threats are mainly from human impacts on the parks, for example: erosion following human traffic, increased visitation, habitat degradation and development of walking tracks and other tourist facilities.

Conservation Measures
Many sites within World Heritage Area.

References


Barker, J., Grigg, G. C., and Tyler, M. J. (1995). A Field Guide to Australian Frogs. Surrey Beatty and Sons, New South Wales.

McDonald, K.R. (1992). Distribution Patterns and Conservation Status of North Queensland Rainforest Frogs. Conservation Technical Report No. 1. Department of Environment and Heritage, Queensland.
---

Written by J.-M. Hero; R. A. Alford; M. Cunningham; K. R. McDonald (m.hero AT mailbox.gu.edu.au), Griffith University
First submitted 2002-04-05
Edited by Ambika Sopory, Jean-Marc Hero (2008-09-16)

Species Account Citation: AmphibiaWeb 2008 Cophixalus ornatus: Ornate Frog <http://amphibiaweb.org/species/2261> University of California, Berkeley, CA, USA. Accessed Feb 26, 2021.
---

Feedback or comments about this page.

Citation: AmphibiaWeb. 2021. <http://amphibiaweb.org> University of California, Berkeley, CA, USA. Accessed 26 Feb 2021.

AmphibiaWeb's policy on data use.