Cophixalus hosmeri
Hosmer's Frog
family: Microhylidae
subfamily: Asterophryinae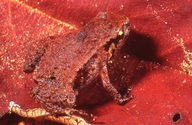 &copy 2010 Eric Vanderduys (1 of 1)
| | |
| --- | --- |
| | hear call (778.2K MP3 file) |
| | hear call (5717.8K WAV file) |
Distribution and Habitat


Country distribution from AmphibiaWeb's database: Australia

The extent of occurrence of the species is approximately 2000 km2. Found in a small area north of Cairns and Mt Lewis, northern Queensland.

Life History, Abundance, Activity, and Special Behaviors
Rainforest at altitudes of 960 – 1,370m asl. Males call from sticks, palms and vegetation up to 1m above ground.

Trends and Threats
No known declines, relatively large area of occupancy, relatively large population.

Threats
Occurs in National Parks in the Wet Tropics. Threats are mainly from human impacts on the parks, for example: erosion following human traffic, increased visitation, habitat degradation and development of walking tracks and other tourist facilities.

Conservation Measures
Protected where its habitat is within a National Park.

References


Barker, J., Grigg, G. C., and Tyler, M. J. (1995). A Field Guide to Australian Frogs. Surrey Beatty and Sons, New South Wales.

McDonald, K.R. (1992). Distribution Patterns and Conservation Status of North Queensland Rainforest Frogs. Conservation Technical Report No. 1. Department of Environment and Heritage, Queensland.

Zweifel, R.G. (1985). ''Australian frogs of the family Microhylidae.'' Bulletin of the American Museum of Natural History, 182, 265-388.
---

Written by J.-M. Hero; K. R. McDonald; R. A. Alford; M. Cunningham (m.hero AT mailbox.gu.edu.au), Griffith University
First submitted 2002-04-05
Edited by Ambika Sopory, Jean-Marc Hero (2008-09-16)

Species Account Citation: AmphibiaWeb 2008 Cophixalus hosmeri: Hosmer's Frog <http://amphibiaweb.org/species/2253> University of California, Berkeley, CA, USA. Accessed Feb 27, 2021.
---

Feedback or comments about this page.

Citation: AmphibiaWeb. 2021. <http://amphibiaweb.org> University of California, Berkeley, CA, USA. Accessed 27 Feb 2021.

AmphibiaWeb's policy on data use.