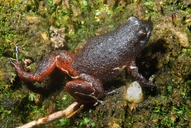 &copy 2010 Eric Vanderduys (1 of 7)

Distribution and Habitat


Country distribution from AmphibiaWeb's database: Australia

Coast and adjacent regions of northern Queensland, from the Atherton Tableland to Cooktown. The extent of occurrence of the species is approximately 6400 km2

Life History, Abundance, Activity, and Special Behaviors
A rainforest species. Often found on the forest floor under fallen timber or leaf litter. Breeding season unknown. Males call from under debris on the forest floor. A clutch of about 12 eggs has been found under debris on damp soil. The clutch was attended by an adult.

Trends and Threats
No known declines.

Threats
Logging was a threat in the past, now tourism in northern Queensland and resultant habitat degradation is more a threat.

Conservation Measures
Much of habitat is protected within National Parks and World Heritage Area in northern Queensland.

References


Barker, J., Grigg, G. C., and Tyler, M. J. (1995). A Field Guide to Australian Frogs. Surrey Beatty and Sons, New South Wales.

Cogger, H.G. (1992). Reptiles and Amphibians of Australia. Reed Books, New South Wales.

McDonald, K.R. (1992). Distribution Patterns and Conservation Status of North Queensland Rainforest Frogs. Conservation Technical Report No. 1. Department of Environment and Heritage, Queensland.
---

Originally submitted by: Jean-Marc Hero et. al. (first posted 2002-04-05)
Edited by: Ambika Sopory (2008-09-16)

Species Account Citation: AmphibiaWeb 2008 Austrochaperina fryi: Fry's Frog <https://amphibiaweb.org/species/2312> University of California, Berkeley, CA, USA. Accessed Sep 25, 2023.
---

Feedback or comments about this page.

Citation: AmphibiaWeb. 2023. <https://amphibiaweb.org> University of California, Berkeley, CA, USA. Accessed 25 Sep 2023.

AmphibiaWeb's policy on data use.