Alytes dickhilleni Arntzen & García-París, 1995
Midwife Toad of Hillenius, Betic midwife toad, sapo partero bético, sapo-parteiro-bético
Subgenus: Baleaphryne

family: Alytidae
subfamily: Alytinae
genus: Alytes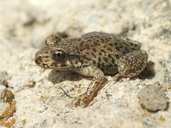 &copy 2008 Wouter Beukema (1 of 14)

Description
Holotype in the original description by Arntzen and Garcia-Paris (1995) is probably a male with a snout-vent length of 35.1mm. The eyes are large and have a vertical slit-shaped pupil. Parotid glands are short and slim, but well marked. Red-orange glandular spots, as present in other Alytes species, are absent. Marked line of white glandular tubercles running along side of trunk. There are three metacarpal tubercles. Background coloration of back gray, with many gray and blackish fine dots equally mixed with pale ones. This gives the frog a "dusty" appearance. A marked gray zone is present between the eyes.

Distribution and Habitat


Country distribution from AmphibiaWeb's database: Spain

A. dickhilleni is endemic to southeastern Spain. Its distribution seems to be limited to several mountain ranges including the Sierra Tejeda and Sierra Almijara (Provinces of Málaga and Granada), the Sierra de Gádor (province of Almería), the Sierra de Baza (province of Grenada), the Sierra Mágina (province of Jaén), and the Sierra de Alcaraz (province of Albacete).

A. dickhilleni can be found at altitudes of approximately 700 to 2000m, in pine forests (Pinus nigra), oak forests (Quercus faginea) and in open rocky landscapes. Adults are usually observed on eroded soils near water, or found under stones. The substrate varies from slates and schist to limestone. The larvae live in clear mountain streams and in man-made reservoirs that have water all year round. The larvae commonly pass one winter in the water.

Life History, Abundance, Activity, and Special Behaviors
A. dickhilleni, as with other midwife toads (genus Alytes), mates on land, where the fertilized eggs are transferred to the male. The male then protects the eggs until hatching (Emilio González Miras & Jaime Bosch, FrogLog 2012).

The larval period in A. dickhilleni is typically longer than one year, meaning that stable, year-round water sources are required for reproduction (Emilio González Miras & Jaime Bosch, FrogLog 2012).

Trends and Threats
The restricted range occupied by A. dickhilleni and the apparent scarcity of the species at many of the places where it has been observed, lead Arnzen and Garcia-Paris (1995) to recommend its immediate legal protection. Although the conservation status may not be so delicate as that of A. muletensis, some similarity is apparent, with many of the populations confined to valleys that are probably isolated from one another. Suitable habitat seems to be disappearing, mainly as a consequence of water withdrawal and droughts. With the decline of traditional cattle raising practices, drinking troughs that serve as habitats for tadpoles are disappearing. Fortunately, the Spanish Institute for Nature Conservation ICONA quickly recognized the need for research and commissioned a study to assess the conservation status of A. dickhilleni.

A. dickhilleni require high quality, year round water sources for breeding, but in the arid regions of Spain these are sparse and very often converted for agricultural use. This has resulted in almost 80% of remaining populations breeding in cattle troughs and water tanks, which are generally too small to support large populations (Emilio González Miras & Jaime Bosch, FrogLog 2012).

Several populations of A. dickhilleni have been observed infected by chytrid fungus (Batrachochytrium dendrobatidis), to which the species seems highly sensitive. This, combined with the sensitivity of A. dickhilleni to climate change, means that the species is extremely vulnerable (Emilio González Miras & Jaime Bosch, FrogLog 2012).

Possible reasons for amphibian decline
General habitat alteration and loss
Intensified agriculture or grazing
Urbanization
Drainage of habitat
Habitat fragmentation
Disease
Loss of genetic diversity from small population phenomena
Climate change, increased UVB or increased sensitivity to it, etc.

References

Arntzen, J. W. and Garcia-Paris, M. (1995). ''Morphological and allozyme studies of midwife toads (genus Alytes), including the description of two new taxa from Spain.'' Contributions to Zoology, 65(1), 5-34.
Pleguezuelos, J. M. (1997). Distribucion y Biogeografia de los Anfibios y Reptiles en España y Portugal. Asociacion Herpetologica Española, Las Palmas de Gran Canarias.
---

Originally submitted by: Arie van der Meijden, John Cavagnaro (first posted 1999-09-22)
Edited by: Vance T. Vredenburg (2012-04-03)

Species Account Citation: AmphibiaWeb 2012 Alytes dickhilleni: Midwife Toad of Hillenius <https://amphibiaweb.org/species/1520> University of California, Berkeley, CA, USA. Accessed May 29, 2023.
---

Feedback or comments about this page.

Citation: AmphibiaWeb. 2023. <https://amphibiaweb.org> University of California, Berkeley, CA, USA. Accessed 29 May 2023.

AmphibiaWeb's policy on data use.