Boana prasina

family: Hylidae
subfamily: Hylinae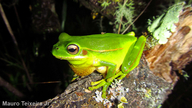 &copy 2018 Mauro Teixeira Jr (1 of 10)
| | |
| --- | --- |
| | hear call (1144.6K MP3 file) |
| | hear call (166.3K MP3 file) |
| | hear call (1188.7K MP3 file) |
Range Description
This species is endemic to southeastern and southern Brazil in the States of Minas Gerais, Rio de Janeiro, São Paulo, Santa Catarina, Parana, and Rio Grande do Sul. It occurs at intermediate elevations at 800-1,400m asl.
Habitat and Ecology
It lives in forested habitats, and in grassland and pastureland, and is usually found on vegetation near ponds, pools, and lakes. It breeds in permanent pools and small streams, and the egg clutches are attached to vegetation in the water.
Population
It is a common species. In Estação Biológica de Boracéia in São Paulo State, the species appears to have disappeared. The decline has been linked to the higher abundance of H. albopunctata.
Population Trend
stable
Major Threats
The main threats are water pollution, and loss of habitat due to fire.
Conservation Actions
It occurs in several protected areas.
Red List Status
Least Concern (LC)
Rationale
Listed as Least Concern in view of its wide distribution, tolerance of a broad range of habitats, presumed large population, and because it is unlikely to be declining fast enough to qualify for listing in a more threatened category.
Taxonomic Notes
This species was previously within the genus Hyla but has recently been moved to the resurrected genus Hypsiboas (Faivovich, et al., 2005).
Citation
Axel Kwet, Paulo Garcia 2004. Hypsiboas prasinus. The IUCN Red List of Threatened Species 2004: e.T55611A11337900. http://dx.doi.org/10.2305/IUCN.UK.2004.RLTS.T55611A11337900.en .Downloaded on 19 February 2019
IUCN Terms of Use