Ranitomeya benedicta Brown, Twomey, Pepper & Sanchez-Rodriguez, 2008

family: Dendrobatidae
subfamily: Dendrobatinae
genus: Ranitomeya

Species Description: Brown JL, Twomey E, Pepper M and Rodriguez MS. 2008. Revision of the Ranitomeya fantastica species complex with description of two new species from Central Peru (Anura: Dendrobatidae). Zootaxa 1823: 1-24.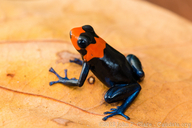 &copy 2012 John P. Clare (1 of 18)

Description
Ranitomeya benedicta is a relatively large species of Ranitomeya, with adults up to 20.2 mm in SVL. Adults bear a brilliant red head, a character which is diagnostic of this species. Frogs from near the type locality have a black body with distinct blue reticulation covering the body, limbs, and venter. Frogs from populations farther south typically have blue limbs with diffuse blue coloration on the dorsum and venter.

In tadpoles, the oral disc is emarginate. Marginal papillae present on posterior labium and lateral part of anterior labium. Jaw sheaths deep, serrate, lacking indentations. Labial tooth row 2(2)/3.

Distribution and Habitat


Country distribution from AmphibiaWeb's database: Peru

This species occurs throughout the Pampas del Sacramento, a lowland plain between Rio Huallaga and Rio Ucayali in southern Loreto and eastern San Martin regions in Peru. It is not known to occur west of Rio Huallaga or east of Rio Ucayali. Most known localities are in the lowlands (ca. 150 m elevation), but above the floodplains surrounding these major rivers. This species has been documented in the Cordillera Azul at an elevation of approximately 405 m. These frogs typically occur in undisturbed rainforests, although they are most frequently found near treefalls or open areas within the forest.

Life History, Abundance, Activity, and Special Behaviors
Ranitomeya benedicta appears to be primarily arboreal, although reproduction takes place in the leaf litter, where females lay clutches of 4-6 eggs. Tadpoles are transported by the male to large bromeliads. Throughout its range, this species is rarely encountered, which could be attributable either to its arboreal habits, or to low population densities. However, in certain localities they appear to be locally abundant. Males have never been heard calling in the field, but in captivity they call throughout the day. The call consists of a series of buzz-like notes, each note approx. 150 ms in duration, with notes spaced 140 ms apart. Ranitomeya benedicta is sympatric with R. imitator and R. ventrimaculata throughout much of its range.

Trends and Threats
Much of this species' habitat is uninhabited and therefore deforestation is not a major threat. However, certain areas, particularly near the type locality of Shucushuyacu, have been badly deforested since the initial discovery of this species in late 2005. Recently, many frogs were smuggled illegally into Europe. Legal frogs also became available in the US pet trade in early 2009, which should help stem the demand for illegally-acquired frogs. Although R. benedicta has not yet been officially evaluated as to population status, Brown et al. (2008) suggest this species be listed as Vulnerable (VU).

Relation to Humans
Highly desired as a terrarium pet.

Possible reasons for amphibian decline
General habitat alteration and loss
Habitat modification from deforestation, or logging related activities
Intentional mortality (over-harvesting, pet trade or collecting)

Comments
This species was considered by Silverstone (1975) to be a form of Ranitomeya fantastica. However, more detailed analysis of additional specimens by Brown et al. (2008) showed that R. benedicta and R. fantastica differ in acoustic, morphological, and genetic characters. In 2011, the genus Dendrobates was subdivided into seven genera, including the new genus Ranitomeya by Brown et al (2011).
References

Brown J.L., Twomey E., Amézquita A., De Souza M.B., Caldwell J.P., Lötters S., Von May R., Melo-Sampaio P.R., Mejía-Vargas D., Perez-Peña P., Pepper M., Poelman E.H., Sanchez-Rodriguez M., and Summers K. (2011). "A taxonomic revision of the Neotropical poison frog genus Ranitomeya (Amphibia: Dendrobatidae)." Zootaxa, 3083, 1-120. [link]
Brown, J. L., Twomey, E., Pepper, M., and Sanchez Rodriguez, M. (2008). ''A revision of the Ranitomeya fantastica species complex and two new species of poison frogs (Anura: Dendrobatidae) from the Rio Huallaga drainage in central Peru.'' Zootaxa, 1832, 1-24.
Silverstone, P. A. (1975). ''A revision of the poison-arrow frogs of the genus Dendrobates Wagler.'' Natural History Museum of Los Angeles County, Scientific Bulletin, 21, 1-55.
---

Originally submitted by: Evan Twomey (first posted 2009-05-25)
Edited by: Kellie Whittaker, Brent Nguyen (2011-11-07)

Species Account Citation: AmphibiaWeb 2011 Ranitomeya benedicta <https://amphibiaweb.org/species/7167> University of California, Berkeley, CA, USA. Accessed Sep 30, 2023.
---

Feedback or comments about this page.

Citation: AmphibiaWeb. 2023. <https://amphibiaweb.org> University of California, Berkeley, CA, USA. Accessed 30 Sep 2023.

AmphibiaWeb's policy on data use.