Phyllomedusa azurea (Cope, 1862)

family: Hylidae
subfamily: Phyllomedusinae
genus: Phyllomedusa

Species Description: Caramaschi U 2006 Redefinicao do grupo de Phyllomedusa hypochondrialis, com redescricao de P. megacephala (Miranda-Ribeiro, 1926), revalidacao de P. azurea Cope, 1826 e descricao de uma nova especie (Amphibia, Anura, Hylidae). Arquivos do Museu Nacional, 64: 159-179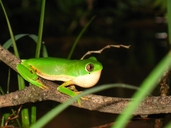 &copy 2010 Helder Duarte (1 of 16)

Description
A medium size leaf-frog belonging to the P. hypochondrialis species group (31-44 mm SVL). Snout truncate in dorsal and lateral view. The space between the eyes is flat. The eyes are large and prominent, located antero-laterally; their diameter is equal to the length of the snout. The tympanum is little evident and rounded. Parotoid glands faintly developed, not entering the upper eyelid but bordering the tympanum. The vocal sac is not discernable. Fingers free, with weak roundish subarticular tubercles and with a large palmar tubercle. Short legs. Toes free, first toe opposable and larger than the second. A large, rounded inner metatarsal tubercle is present; the outer metatarsal tubercle is absent. A brown nuptial pad is present in males. Skin smooth, ventrally closely rugose, with larger granulations on the lower surface of thighs (Cei 1980; Caramaschi 2006).

Dorsal color bright green, but can change to light brown by daytime; belly whitish, immaculate. A wide green stripe along the dorsal surface of thighs. Phyllomedusa azurea bears a narrow white stripe in the upper labium, which does not reach the edge of the lower eyelid. Wide red or orange bands with black transversal bars, regularly distributed on the anterior and posterior surface of the thighs, tibia, and tarsus (Cei 1980; Caramaschi 2006).

The tadpole of P. azurea has a slender, ovoid body, slightly wider than deep. Total length about 40 mm at Gosner stage 38. Eyes lateral, large. The spiracle is ventral, opening posteriorly. Vent tube dextral. Ventral fin curving in the posterior half of the tail and with a very acuminate tip. The enlarged portion of the ventral fin is finely marbled with small dark spots. Labial tooth row formula 2(2)/2(1). The oral apparatus is surrounded by one row of marginal papillae as well as submarginal papillae. The upper jaw sheath is broad and finely serrated (Cei 1980). Budgett (1899) meticulously described the early development of the embryo and tadpoles of P. azurea (treated as P. hypochondrialis) from Paraguayan chaco.

Distribution and Habitat


Country distribution from AmphibiaWeb's database: Argentina, Bolivia, Brazil, Paraguay

Its distribution includes the Chacoan regions of eastern Bolivia (Beni and Santa Cruz Provinces), northern Argentina (Salta, eastern Jujuy, Formosa, Chaco, northern Santiago del Estero, Santa Fe and Corrientes Provinces) and Paraguay from the lowlands up to 1,500 m. In Brazil, this species has been recorded in the Cerrado (Brazilian Savanna) and Pantanal regions, in the states of southwestern Mato Grosso, Mato Grosso do Sul, southern Tocantins, Goiás, Distrito Federal, eastern Minas Gerais and lately in the northwestern region of São Paulo State (Cei 1980; Caramaschi 2006; Frost 2007; Prado et al. 2008).

Phyllomedusa azurea inhabits open formations in South America, usually in the seasonally flooded grasslands and open habitats in tropical dry forests.

Life History, Abundance, Activity, and Special Behaviors
Phyllomedusa azurea is only active at night (Budgett 1899). Cei (1980) reports this species (treated as P. hypochondrialis azurea) living in the axillary sheets of bromeliads in northern Argentina; this was also noted by Budgett (1899) in the Paraguayan chaco.

The reproductive activity takes place during the rainy season (from December to February, according to Budgett 1899; from October to May, according to Rodrigues et al. 2007). Prado et al. (2008) found two calling males standing upon herbaceous vegetation at the edge of a shallow farm pond in a pastureland near a forest fragment, in the northwestern region of the S�o Paulo State, Brazil. The advertisement call can be heard on Toledo et al. (2008). Adults reproduce in temporary ponds, with dense vegetation inside (Laurent 1973; Cei 1980; Prado et al. 2005; Rodrigues et al. 2007). Like other members of the species group, P. azurea builds leaf nests in herbaceous plants, which hang over temporary ponds in open areas (Prado et al. 2005; Rodrigues et al. 2007). Budgett (1899) reported that a nest found by him at about 1 m above the water contained about 100 eggs (see also Rodrigues et al. 2007), and that the egg laying process lasted 45 minutes.

The abundance peak recorded by Rodrigues et al. (2007) occurred in December, when about 25 individuals were found in their study site, composed of a temporary pond and a flooded field.

Trends and Threats
Its range is within protected areas in Brazil, Argentina and Bolivia. A possible threat may be the increasing habitat modification due to the culture of sugarcane and soybean in Central Brazil, and also the building the dams. Phyllomedusa azurea seems to adapt well to habitat change and is able to live in secondary forest. This species has also been reported to occur in urban areas, in Bolivia (IUCN 2006). However, a more complete assessment of its distribution and ecological requirements is needed to correctly assign the conservation status of this recently revalidated species.

Relation to Humans
There are reports of P. hypochondrialis being collected for the pet trade. Since P. azurea was until recently confounded with the former taxon, it is likely that P. azurea has also been used as a pet. Phyllomedusa azurea has been recorded in urban areas in Bolivia (IUCN 2006).

Possible reasons for amphibian decline
General habitat alteration and loss
Intensified agriculture or grazing
Dams changing river flow and/or covering habitat
Habitat fragmentation
Local pesticides, fertilizers, and pollutants
Long-distance pesticides, toxins, and pollutants

Comments
A distribution map can be found in Caramaschi (2006) and an updated version with a new record in Prado et al. (2008).
References

Budgett, J. S. (1899). ''Notes on the batrachians of the Paraguayan chaco, with observations upon their breeding habits and development, especially with regard to Phyllomedusa hypochondrialis, Cope. Also a description of a new genus.'' The Quarterly Journal of Microscopical Science, 42(167), 305-333.
Caramaschi, U. (2006). ''Redefinição do grupo de Phyllomedusa hypochondrialis, com redescrição de P. megacephala (Miranda-Ribeiro, 1926), revalidação de P. azurea Cope, 1862 e descrição de uma nova especie (Amphibia, Anura, Hylidae).'' Arquivos do Museu Nacional, 64, 159-179.
Cei, J. M. (1980). ''Amphibians of Argentina.'' Monitore Zoologica Italiano, New Series Monografia, Firenze, 2, 1-609.
Frost, D. R. (2007). Amphibian Species of the World: an Online Reference. Version 5.1 (10 October 2007). Electronic Database accessible at http://research.amnh.org/herpetology/amphibia/index.php. American Museum of Natural History, New York, USA.
IUCN, Conservation International, and NatureServe (2006). Global Amphibian Assessment: Phyllomedusa hypochondrialis. www.globalamphibians.org. Accessed on 04 May 2008.
Laurent, R. F. (1973). ''Comportamiento territorial en Phyllomedusa hypochondrialis.'' Acta Zoologica Lilloana, 26, 313-316.
Prado, C. P. A., Uetanabaro, M, and Haddad, C. F. B. (2005). ''Breeding activity patterns, reproductive modes, and habitat use by anurans (Amphibia) in a seasonal environment in the Pantanal, Brazil.'' Amphibia-Reptilia, 26, 211-221.
Prado, V. H. M., Borges, R. E., Silva, F. R., Tognolo, T. T., and Rossa-Feres, D. C. (2008). ''Amphibia, Anura, Hylidae, Phyllomedusa azurea - Distribution extension.'' Check List, 4, 55-56.
Rodrigues, D., Uetanabaro, M., and Lopes, F. (2007). ''Breeding biology of Phyllomedusa azurea Cope, 1862 and P. sauvagii Boulenger, 1882 (Anura) fom the Cerrado, Central Brazil.'' Journal of Natural History, 41, 1841-1851.
Toledo, L. F., Giovanelli, J. G. R., Giasson, L. O. M., Prado, C. P. A., Guimarăes, L. D., Bastos, R. P., and Haddad, C. F. B. (2007). Guia interativo dos Anfíbios Anuros do Cerrado, Campo Rupestre e Pantanal. Audio CD, Editora Neotropica (Bilingual: Portuguese and English versions), editoraneotropica.com.br.
---

Originally submitted by: Diogo B. Provete (first posted 2008-07-17)
Edited by: Kellie Whittaker (2009-01-20)

Species Account Citation: AmphibiaWeb 2009 Phyllomedusa azurea <https://amphibiaweb.org/species/6800> University of California, Berkeley, CA, USA. Accessed Sep 28, 2023.
---

Feedback or comments about this page.

Citation: AmphibiaWeb. 2023. <https://amphibiaweb.org> University of California, Berkeley, CA, USA. Accessed 28 Sep 2023.

AmphibiaWeb's policy on data use.