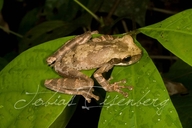 &copy 2010 Tobias Eisenberg (1 of 1)

Country distribution from AmphibiaWeb's database: Ecuador, Peru




Vernacular Name

Rana de casco burlona

State/Provinces

Napo, Orellana, Sucumbíos, Pastaza

Natural Regions

Bosque Húmedo Tropical Amazónico

Identification

Es una rana mediana de color café, con una mancha crema bajo el ojo, vientre blanco e iris bronce con reticulaciones negras. Presenta discos expandidos en los dedos. Osteocephalus deridens es similar a Osteocephalus fuscifacies pero se diferencia por la presencia de una amplia mancha blanco cremosa bajo el ojo (ausente en Osteocephalus fuscifacies) y por su coloración ventral blanco cremosa (café grisácea con gránulos blancos en Osteocephalus fuscifacies). Otras especies de Osteocephalus de la Amazonía ecuatoriana son más grandes (2).

Description

La textura de la piel dorsal no es sexualmente dimórfica. Discos expandidos en los dedos (1).

Color in Life

Dorso color café con o sin manchas café-obscuras; superficies dorsales de las patas color café con barras café-obscuras. Vientre blanco cremoso. Amplia mancha blanca cremosa bajo el ojo. Iris de color bronce con líneas negras radiando de la pupila. Huesos de las patas traseras verdes, visibles a través de la piel (1).

Males Face Cloacal Length Average

rango = 28.8–34.9 mm; n = 2 (2

Females Face Cloacal Length Average

rango = 43.7–50.6 mm; n = 5 (2

Habitat and Biology

Tiene actividad nocturna. Los machos cantan desde bromelias a alturas superiores a 5 m, en Bosque de Tierra Firme. Excepcionalmente se puede encontrar individuos a alturas entre 0.1 y 4 m (1). Las actividades en los estratos bajos del bosque aparentemente son de forrajeo y no reproductivas. Ponen sus huevos en bromelias. Observaciones preliminares sugieren que las larvas son alimentadas con huevos fértiles depositados regularmente por las hembras (1). En Yasuní, dos especies adicionales de Osteocephalus depositan sus huevos en bromelias: Osteocephalus fuscifacies y Osteocephalus planiceps (2).

Distribution

Cuenca del Río Napo y Pastaza en las provincias de Napo, Francisco de Orellana, Pastaza y Sucumbíos, Ecuador (3, 7). Reportada de Perú por Moravec et al. (5).

Altitudinal Range

De 250 a 600 m sobre el nivel del mar.

Taxonomy and Evolutionary Relationships

Moravec et al. (

5

) y Ron et al. (

6

) reportan una relación cercana con

Osteocephalus fuscifacies

,

Osteocephalus planiceps

y

Osteocephalus castaneicola

en base a una filogenia molecular. Jetz y Pyron (

8

) proponen a

Osteocephalus fuscifacies

como su especie hermana.

Etymology

El nombre específico es el gerundio del Latín deridere (reírse de alguien) en alusión a los cantos de los machos que desde las copas de los árboles suenan como si se estuvieran riendo de los intentos inútiles por alcanzarlos (1).
Summary Author
Morley Read y Santiago R. Ron
Editor
Santiago R. Ron
Edition Date
2011-10-13T00:00:00
Update Date
2022-12-23T16:02:25.003
Literature Cited
Jungfer, K., Ron, S. R., Almendáriz, A. y Seipp, R. 2000. Two new species of hylid frogs, genus Osteocephalus, from Amazonian Ecuador. Amphibia-Reptilia 21:327-340.PDF
Ron, S. R. 2001-2011. Anfibios de Parque Nacional Yasuní, Amazonía ecuatoriana. [en línea]. ver. 1.7 (2011). Museo de Zoología, Pontificia Universidad Católica del Ecuador. Quito, Ecuador.
Frost, D. R. 2010. Amphibian species of the world: an online reference. Version 5.4 (8 April, 2010). Electronic Database accessible at http://research.amnh.org/vz/herpetology/amphibia/. American Museum of Natural History, New York, USA.
IUCN. 2010. The IUCN red list of threatened species. http://www.iucnredlist.org/apps/redlist/search. (Consultado: 2010).
Moravec , J., Aparicio, J., Guerrero-Reinhard, M., Calderón, G., Jungfer, K. y Gvozdik, V. 2009. A new species of Osteocephalus (Anura: Hylidae) from Amazonian Bolivia: first evidence of tree frog breeding in fruit capsules of the Brazil nut tree. Zootaxa 2215:37–54.
Ron, S. R., Venegas, P. J., Toral, E., Read, M., Ortiz, D., Manzano, A. L. 2012. Systematics of the Osteocephalus buckleyi species complex (Anura, Hylidae) from Ecuador and Peru. Zookeys 229:1-52.PDF
Ron, S. R. 2018. Base de datos de la colección de anfibios del Museo de Zoología (QCAZ). Versión 1.0. Pontificia Universidad Católica del Ecuador. Disponible en
https://bioweb.bio/portal/
Jetz, W., Pyron, R. A. 2018. The interplay of past diversification and evolutionary isolation with present imperilment across the amphibian tree of life. Nature Ecology & Evolution 2: 850-858.
Ortiz, D., Hoskin, C., Werneck, F., Réjaud, A., Manzi, S., Fouquet, A., Ron, S. 2022.
Historical biogeography highlights the role of Miocene landscape changes on the diversification of a clade of Amazonian tree frogs. Organisms Diversity & Evolution 1-20.
PDF