Pseudis paradoxa (Linnaeus, 1758)
Paradox Frog, Paradoxical Frog
family: Hylidae
subfamily: Hylinae
genus: Pseudis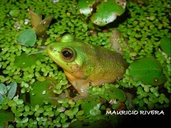 &copy 2007 Mauricio Rivera Correa (1 of 11)

Description
Sexually matured adults are 45-65mm in total length, but can reach sizes up to 75 mm (Emerson 1988; Lescure and Marty 2000). Body is short and pauchy. Head is small in comparison to the body. Short and round snout. Eyes in a dorsolateral position. Dorsal and ventral surfaces smooth. External metatarsal tubercle absent with the internal located in a prominent lateral position. Fingers free; toes completely palmate (Lescure and Marty 2000).

Iris yellow with a transverse brown bar. Dorsal surface green, throughout the anterior, brown, throughout the posterior, with dark spots. Ventral surface whitish with brown spots, with 3-4 brown lines connecting near the thighs (Lescure and Marty 2000).

Distribution and Habitat


Country distribution from AmphibiaWeb's database: Argentina, Bolivia, Brazil, Colombia, French Guiana, Guyana, Paraguay, Peru, Suriname, Trinidad and Tobago, Venezuela

This frog is found East of the Andes in river drainage systems from Venezuela to Paraguay and in Trinidad. These frogs are not found in locations with large seasonal fluctuations in temperature (Emerson 1988).

Life History, Abundance, Activity, and Special Behaviors
Typically found in open marshy areas with floating vegetation, in both permanent and temporary ponds (Bosch et al 1996; Cei 1980). Active both day and night, found floating on the surface in the latter (Lescure and Marty 2000). Diet consists of insects and small frogs (Cei 1980).

Mating seems to be related to sudden rainfall or other seasonal fluctuations. Eggs consist of frothy masses of greenish eggs laid along the shore among aquatic plants. Newly hatched tadpoles retain a greenish color on their venters for several days (Dixon et al 1995). In temporary ponds tadpoles transform quickly. It is in permanent habitat where the tadpoles reach their enormous proportions and transform at adult size (Cei 1980; Emerson 1988).

Males call floating on the surface, hidden among emergent vegetation (Bosch et al 1996). Call is strong (Lescure and Marty 2000), consisting of a sequence of 8-11 pulse groups (Bosch et al 1996).

Larva
Pseudis paradoxa has one of the largest tadpoles in comparison to its adult from. Tadpoles are approximately 3 - 4 times bigger than adult frogs, reaching sizes up to 220 mm (Emerson 1988).

References


Bosch, J., De la Riva, I., and Márquez, R. (1996). ''The calling behavior of Lysapsus limellus and Pseudis paradoxa (Amphibia:Anura:Pseudidae).'' Folia Zoologica, 45(1), 49-55.

Cei, J. M. (1980). ''Amphibians of Argentina.'' Monitore Zoologica Italiano, New Series Monografia, Firenze, 2, 1-609.

Dixon, J. R., Mercolli, C. and Yanosky, A. A. (1995). ''Some aspects of the ecology of Pseudis paradoxa form Northeastern Argentina.'' Herpetological Review, 26(4), 183-185.

Emerson, S. B. (1988). ''The giant tadpole of Pseudis paradoxa.'' Biological Journal of the Linnean Society, 34(2), 93-104.

Lescure, J. and Marty, C. (2000). Atlas Des Amphibiens De Guyane. Muséum National D'Histoire Naturelle, Paris.
---

Originally submitted by: Rachna Tiwari and Tate Tunstall (first posted 2002-01-18)
Edited by: Tate Tunstall (2022-08-15)

Species Account Citation: AmphibiaWeb 2022 Pseudis paradoxa: Paradox Frog <https://amphibiaweb.org/species/5225> University of California, Berkeley, CA, USA. Accessed Dec 2, 2023.
---

Feedback or comments about this page.

Citation: AmphibiaWeb. 2023. <https://amphibiaweb.org> University of California, Berkeley, CA, USA. Accessed 2 Dec 2023.

AmphibiaWeb's policy on data use.