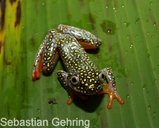 &copy 2010 Philip-Sebastian Gehring (1 of 5)

Description
One of the larger species of Heterixalus , snout vent length of females 30-33 mm. Easy to identify by its characteristic coloration: back blackish or dark grey, with orange spots in the shade and whitish with yellow spots (bordered with black) in the sun. Thighs, ventral surface of limbs, and hands and feet are orange. Venter is creamish. Call is unknown.

Similar species: Generally easily distinguishable from other species of Heterixalus by its distinctive coloration.

Distribution and Habitat


Country distribution from AmphibiaWeb's database: Madagascar

Ambahy, Ambatambe, Ambohimanana, Ifanadiana, Mananjary, Manombo, Midongy du Sud (Camp Kilimagnarivo), Ranomafana village, Sahavato. It occurs between sea level and 800m asl. This species lives in open areas, including savannahs, degraded habitats, agricultural areas, grasslands, and rice fields. (Nussbaum et al. 2008).

Life History, Abundance, Activity, and Special Behaviors
It breeds in a wide variety of temporary and permanent waterbodies, including rice fields (Nussbaum et al. 2008). Dissected females contained about 500 black and white eggs, diameter 1.5 mm. Females were found on the sun-exposed leaves of Pandanus and other plants. At Ranomafana it was only observed in August. Tadpoles are unknown.

Trends and Threats
It occurs in Parc National de Ranomafana and in the Manombo Special Reserve (Nussbaum et al. 2008).

Comments
Taken with permission from Glaw and Vences (2007).

References


Glaw, F. and Vences, M. (1994). Amphibians and Reptiles of Madagascar. M. Vences and F. Glaw Verlags GbR., Köln.

Glaw, F., and Vences, M. (2007). Field Guide to the Amphibians and Reptiles of Madagascar. Third Edition. Vences and Glaw Verlag, Köln.

Nussbaum, R., Vences, M., and Cadle, J. (2008). Heterixalus alboguttatus. In: IUCN 2008. 2008 IUCN Red List of Threatened Species. www.iucnredlist.org. Downloaded on 01 April 2009.
---

Originally submitted by: Miguel Vences and Frank Glaw (first posted 2002-02-08)
Edited by: Henry Zhu (2010-07-18)

Species Account Citation: AmphibiaWeb 2010 Heterixalus alboguttatus <https://amphibiaweb.org/species/486> University of California, Berkeley, CA, USA. Accessed Dec 5, 2023.
---

Feedback or comments about this page.

Citation: AmphibiaWeb. 2023. <https://amphibiaweb.org> University of California, Berkeley, CA, USA. Accessed 5 Dec 2023.

AmphibiaWeb's policy on data use.