Guibemantis liber

Subgenus: Pandanusicola

family: Mantellidae
subfamily: Mantellinae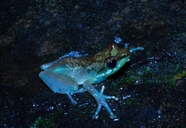 &copy 2012 Sebastian Wolf (1 of 19)
| | |
| --- | --- |
| | hear call (174.7K MP3 file) |
Description
A small, variable coloured, mainly arboreal frog; males 21-29 mm, females 27-28 mm. Dorsal surface reddish, greyish or greenish often with a dark bar between the eyes and sometimes with a light vertebral median band. White or yellow spots on the inguinal region, temporal region dark and white spots on the upper lip. In life, ventral surface of the female is pale green, whereas the throat of the male is shining white. Belly and ventral surface of the legs are dark, sometimes (in specimens from Ranomafana) completely black. Dorsal skin more or less smooth. Nostrils clearly nearer to tip of snout than to eye. Tympanum distinct, about 2/5 of eye diameter. Tibiotarsal articulation reaches the eye. Lateral metatarsalia connected. Inner and outer metatarsal tubercles present. Virtually no webbing between fingers; webbing of the foot 1(1), 2i/e(1), 3i(2), 3e(1), 4i/e(2), 5(1). Fingers with terminal disks. Hand (foot) length/SVL is 0.32-0.34 (0.46-0.50). Males have femoral glands which can be diffuse and not recognizable, especially in living specimens, but sometimes are large, oblong, 8x2.5 mm and very distinctive. A largely distensible, single subgular vocal sac, coloured bright white, is present in males.
Similar species: Colouration of M. liber is very variable; M. pulcher can be identified by its different colouration of green with violet markings. From all species of the subgenus Pandanusicola, M. liber differs by having larger hands and feet: hand length/body length ratio is 0.23-0.28, foot length/body length ratio is 0.38-0.43 for species of Pandanusicola. The connected lateral metatarsalia distinguish M. liber from the other species of Guibemantis. Confusion with members of Blommersia and with small species of Boophis, especially those of the B. rappiodes-group, might also be possible.

Distribution and Habitat


Country distribution from AmphibiaWeb's database: Madagascar

Ambohitantely, An'Ala, Andapa, Andasibe, Andrangoloaka, Andranomay forest, Anjozorobe, Anosibe, Antratrabe, Besariaka near Moramanga, Betatao, Ifanadiana, Itremo, Manakara, Mananara-Nord, Mandraka, Marojejy, Montagne d' Ambre, Moramanga, Ranomafana, Sainte Luce, Vevembe, Vohiparara. It occurs between sea level and 2,050m asl (Nussbaum et al. 2008).

Life History, Abundance, Activity, and Special Behaviors
Habits: During the day, the species can sometimes be found around phytotelmes, often in plants, such as axils of Pandanus, Typhonodorum lindleyanum, Ravenala madagascariensis and banana, as well as on Crinum firmifolium, Rapphia palms and arboreal ferns, inside or outside of primary forest. M. liber becomes active at dusk. During wet nights in the rainy season, males call from vegetation around swamps, temporary pools or very slow-moving water.
Breeding behaviour was described as follows: The female moved in the direction of the male and, on reaching him, tried to push her head from behind underneath his belly. The male did not seem to notice her at first, but after some minutes he stopped calling and placed his hind legs in such a way that the ventral side of his thighs touched the dorsal side of her head and shoulders. In this posture, the male showed heavy lateral pulsing movements in the flanks, while the female started depositing her eggs without delay. The laying of about 60 eggs was finished within ten minutes. The male left the female some minutes before she was ready and started calling at a distance. The breeding season is from November to May, as indicated by calling males, gravid females and egg clutches found in that period.

Call (from Andasibe): The call is a series of 7-10 unharmonious notes, similar to the call of Boophis difficilis. However, it is less "metallic", and reminds the sound of two pebbles beaten against each other. Note duration is about 50-100 ms, intervals between notes last about 200 ms. Frequency ranges from 2.2-3.8 kHz. Calls from Montagne d'Ambre ranged from 2.5-3.3 kHz and consist of 3-15 notes.

Eggs and tadpoles: Clutches consist of 30-90 pale green coloured eggs with a brownish pole (fig. 159). Clutch diameter is 2-3 cm, later 4.5-6 cm; egg diameter 1.3-1.5 mm. The transparent and colourless egg masses can be found hanging from leaves, usually about 1.5 m above water bodies. The embryos hang tail downward in the liquefied jelly mass. After embryonic development of 5-7 days, the hatchling larvae drop into the water, measuring about 9 mm. The tail is more than twice as long as the body; horny beak and papillae are already present. Tadpole colouration is grey or rarely brown. Complete tooth formula from stage 27 on is mostly 1/3+3//3, but sometimes 1/2+2//3 or 1/4+4//3. Tadpoles reach a maximum total length of 35 mm in stage 37. They can be found throughout the year. They are not very agile and spend most of the time lying on the bottom, often together with tadpoles of Mantidactylus betsileanus. Metamorphosis in the hot season takes two months.

Trends and Threats
It occurs in many protected areas (Nussbaum et al. 2008).

Possible reasons for amphibian decline
General habitat alteration and loss
Habitat modification from deforestation, or logging related activities
Intensified agriculture or grazing
Habitat fragmentation

Comments
Taken with permission from Glaw and Vences (2007).

References


Glaw, F. and Vences, M. (1994). Amphibians and Reptiles of Madagascar. M. Vences and F. Glaw Verlags GbR., Köln.

Glaw, F., and Vences, M. (2007). Field Guide to the Amphibians and Reptiles of Madagascar. Third Edition. Vences and Glaw Verlag, Köln.

Nussbaum, R., Raxworthy, C., and Andreone, F. (2008). Guibemantis liber. In: IUCN 2008. 2008 IUCN Red List of Threatened Species. www.iucnredlist.org. Downloaded on 01 April 2009.
---

Originally submitted by: Frank Glaw and Miguel Vences (first posted 2000-11-27)

Edited by: Henry Zhu (2009-04-01)

Species Account Citation: AmphibiaWeb 2009 Guibemantis liber <https://amphibiaweb.org/species/4608> University of California, Berkeley, CA, USA. Accessed May 11, 2021.
---

Feedback or comments about this page.

Citation: AmphibiaWeb. 2021. <https://amphibiaweb.org> University of California, Berkeley, CA, USA. Accessed 11 May 2021.

AmphibiaWeb's policy on data use.