Philautus kerangae

family: Rhacophoridae
subfamily: Rhacophorinae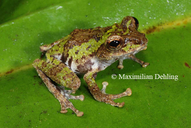 &copy 2009 Maximilian Dehling (1 of 1)
| | |
| --- | --- |
| | hear call (41.0K WAV file) |
Range Description
This species is known from two widely separated areas in Sarawak, Borneo (Malaysia), where it has been collected at 200m asl.
Habitat and Ecology
The only known specimens were found in heath forest. It is closely associated with Nepenthes plants. and eggs are deposited in their pitchers. Breeding is by direct development.
Population
The current population status of this species is unknown.
Population Trend
decreasing
Major Threats
Loss of habitat due to the deforestation and fragmentation of peat swamps is the major threat to this species.
Conservation Actions
It has been recorded from Gunung Mulu National Park, but there is a need for more effective protection of peat swamp forest habitats in Sarawak.
Red List Status
Endangered (EN)
Rationale
Listed as Endangered, because its Area of Occupancy is probably less than 500 km2, its distribution is severely fragmented, and there is a continuing decline in the extent and quality of its forest habitat.
Citation
Robert Inger, Djoko Iskandar, Indraneil Das, Robert Stuebing, Maklarin Lakim, Paul Yambun, Mumpuni 2004. Philautus kerangae. The IUCN Red List of Threatened Species 2004: e.T58861A11850781. http://dx.doi.org/10.2305/IUCN.UK.2004.RLTS.T58861A11850781.en .Downloaded on 19 February 2019
IUCN Terms of Use