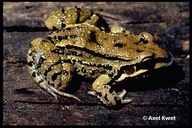 &copy 2003 Dr. Axel Kwet (1 of 28)

Description
Leptodactylus mystacinus is a moderately sized species of frog, ranging from 44-65 mm SVL in adult males and 54-67 mm SVL in adult females. The two genders can be distinguished from from one another by the flatter snouts and lack of asperities on the thumbs and chest of adult males. Both genders have heads that are proportionally as long as they are wide. This species has relatively short back legs with narrow, smooth toe tips. Much of the lower leg is covered in white tubercles, and among most individuals, these nodules continue down across the top and bottom of the foot. As the specific epithet suggests, a light stripe of color covers the upper lip like a mustache. Coloration differs among individuals; the dorsal region can be a solid brown, or it may be striped or dotted with dark brown. The ventral region is usually either a solid light color or mottled with different shades of brown. In individuals with mottled bellies, the coloring is more intense around the arm insertions.

In the larval stage, the dorsal fin and body length of Leptodactylus mystacinus are clearly differentiated; the dorsal fin ends where the body begins. Larvae are usually 46-48 mm long, with 17-18 mm of that length taken up by the body. Eye diameters are about 10% of this body size, while oral disks are almost 23%. L. mystacinus larvae have brown bodies and brown and cream mottled tails (Heyer et al. 2003).

Distribution and Habitat


Country distribution from AmphibiaWeb's database: Argentina, Bolivia, Brazil, Paraguay, Uruguay

Leptodactylus mystacinus is found in subtropical arid and mesic regions throughout much of the mideastern portion of South America. It ranges from the Yungas Mountains in northwestern Argentina to the eastern slopes of the Andes Mountains in Bolivia, and over into Uruguay and around Bahia, Brazil. L. mystacinus usually inhabits forests with closed canopies, but has also been found in clearings throughout the central and southern Atlantic Forests in Brazil (Heyer et al. 2003).

Life History, Abundance, Activity, and Special Behaviors


The advertising call of L. mystacinus consists of a single note repeated an average of 250-400 times per minute for a length of 0.04-0.06 seconds. When recorded, it was found that this call had very little amplitude or frequency modulation. The frequency is generally 2050-2500 Hz, with a minimal rise of 50 Hz possible from the start to the end of the call (Heyer et al. 2003).

Comments
In Greek, "mystax" means upper lip or mustache. The light coloration covering the lip of Leptodactylus mystacinus is distinct in most individuals, giving the appearance of a mustache (Heyer et al. 2003).

References


Heyer, M.M., Heyer, W. R., Spear, S., and de Sa, R. O. (2003). ''Leptodactylus mystacinus.'' Catalogue of American Amphibians and Reptiles. Society for the Study of Amphibians and Reptiles, 767.1-767.11.
---

Originally submitted by: Elizabeth Reisman (first posted 2003-09-26)
Edited by: Kellie Whittaker (2009-06-26)

Species Account Citation: AmphibiaWeb 2009 Leptodactylus mystacinus: Mustached Frog <https://amphibiaweb.org/species/3346> University of California, Berkeley, CA, USA. Accessed Dec 9, 2023.
---

Feedback or comments about this page.

Citation: AmphibiaWeb. 2023. <https://amphibiaweb.org> University of California, Berkeley, CA, USA. Accessed 9 Dec 2023.

AmphibiaWeb's policy on data use.