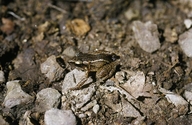 &copy 2004 Pierre Fidenci (1 of 8)

Distribution and Habitat


Country distribution from AmphibiaWeb's database: Cuba

Comments
This species was featured as News of the Week on 9 August 2021:
Amphibians are good study subjects to test whether differences in reproductive phenology may separate niche space and thus allow for increased numbers of co-occurring species given limited resources. Bignotte-Giró et al. (2021) studied five endemic Eleutherodactylus species* that coexist in a mountain rainforest in Cuba to test the hypothesis that in Neotropical humid sites, reproductive activity in sympatric species will vary in the time of occurrence in order to minimize complete temporal overlap. Reproductive phenology was inferred from seasonal variation in the number of sexually active individuals, their gonad developmental stage, and male vocal activity from January 2003 to March 2004. The study found no support for the hypothesis of temporal segregation in reproduction and instead found a prolonged reproductive pattern in all five species, with decreased breeding intensity in the cooler months (November–February). Thus, if niche diversification is occurring, it must be explained along different ecological parameters than reproductive phenology. (*E. auriculatus and E. dimidiatus are widely distributed across the island, whereas E. cuneatus, E. gundlachi, and E. intermedius are known only from the eastern ranges of Cuba.) (VVredenburg)
---


Edited by: Michelle S. Koo (2021-08-08)

Species Account Citation: AmphibiaWeb 2021 Eleutherodactylus cuneatus: Oriente Streamside Frog <https://amphibiaweb.org/species/2877> University of California, Berkeley, CA, USA. Accessed Sep 22, 2023.
---

Feedback or comments about this page.

Citation: AmphibiaWeb. 2023. <https://amphibiaweb.org> University of California, Berkeley, CA, USA. Accessed 22 Sep 2023.

AmphibiaWeb's policy on data use.