Ameerega picta (Tschudi, 1838)

family: Dendrobatidae
subfamily: Colostethinae
genus: Ameerega


Taxonomic Notes: A subspecies, guayanensis, has been recorded from Brazil, and the authors of the account suggest that it be raised to full species level (Avila-Pires et al. 2010 Bol. Mus. Para. Emilio Goeldi)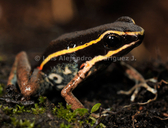 &copy 2015 Luis Alejandro Rodriguez J. (1 of 14)

Distribution and Habitat


Country distribution from AmphibiaWeb's database: Bolivia, Brazil, Colombia, Ecuador, French Guiana, Guyana, Paraguay, Peru, Suriname, Venezuela

Comments
Calling behavior and spectral stratification in Amazonian dart poison frogs (Dendrobatidae).

Shows rainforest habitat, Ameerega trivittata embryos, tadpole transport, and calling; then Allobates femoralis, Ameerega petersi, Ameerega picta, and Allobates marchesianus calling, and contrasts the calls by using spectrograms.

Language: English. Run-time: 1:38.
Video submitted by Dr. Walter Hödl.
---

Originally submitted by: Kellie Whittaker (first posted 2008-04-21)
Edited by: Kellie Whittaker (2013-02-19)

Species Account Citation: AmphibiaWeb 2013 Ameerega picta <https://amphibiaweb.org/species/1670> University of California, Berkeley, CA, USA. Accessed Oct 1, 2023.
---

Feedback or comments about this page.

Citation: AmphibiaWeb. 2023. <https://amphibiaweb.org> University of California, Berkeley, CA, USA. Accessed 1 Oct 2023.

AmphibiaWeb's policy on data use.