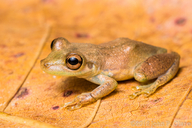 &copy 2012 John P. Clare (1 of 24)

Description
Flat-bodied with a long, rounded protruding snout. Tympanum distinct but upper edge is obscured by supratympanic fold. Large, bulging eyes. Horizontally elliptical pupils with dull bronze iris. Fingers are moderately long and slender. Whitish, nonspinous nuptial pad is present on the thumb of adult males. Not much webbing in between fingers and two inner toes. S. elaeochrous has dark green bones (visible through skin on underside of hind limbs). The color of this species varies. They can be uniformly ochre, a patterned dark brown or striped with bright beige or dark brown bands. They can also be yellow, yellowish-green, yellowish tan or olive green. Dorsal surfaces are usually smooth but sometimes have small tubercules. Ground color of dorsal surfaces are yellow green. Females reach a size of 40mm while males are generally no longer than 30mm. Metamorphs are about 13 mm.
Larvae: mouth anteroventral, nostrils anterodorsal, eyes lateral, tail and tail fins are moderate, finely serrate beaks, lower lip with small lateral papillae, yellowish tan body, brown stripe from snout through eye, gold iris.

Distribution and Habitat


Country distribution from AmphibiaWeb's database: Costa Rica, Nicaragua, Panama

Common treefrog throughout lowland rainforests of the Caribbean. Lowland Moist and Wet Forests. Found at elevations below 1,000m in the Caribbean lowlands between central Nicaragua and western Panama. A highly arboreal frog, individuals have been found in canopy up to 25m above ground. They are often found sitting on leaves, and can maintain a vertical head-down position after the leaf is bent.

Life History, Abundance, Activity, and Special Behaviors
Active year-round except for the driest months. Like other hylids, it is primarily nocturnal. Males can be heard calling from cavities such as tree holes. S. elaeochrous breed in temporary ponds during the wet season. After the first torrential rains hit the reproductive site, males suddenly increase calling. Hundreds to thousands call in unison continually for 1 to 2 days. During this time, the males will turn a brighter yellow and their vocal sacs become yellow orange. Throughout this period, males will compete for calling sites. While this scramble is going on, females will also join in and amplexus takes place in the water. Eggs are laid in the pond or adjacent areas of vegetation. They hatch in approximately 1.6 days. Larvae develop in ponds. Tadpoles live in the shallow waters of ponds and hide within the vegetation.

Comments
Can maintain vertical head-down position on leaf due to mobile inner toes and inner fingers. Can also adhere to vertical leaf by pressing entire flattened body against leaf, having its entire body function as a suction cup. Makes a series of short notes (usually 2-15 but sometimes up to 95!) Higher pitch than S. boulengeri. The two important harmonics are 1.5 and 2.9 kHz and averages 40-50 beats per second.

A Spanish-language species account can be found at the website of Instituto Nacional de Biodiversidad (INBio).
---

Originally submitted by: Veronica Garza (first posted 2004-04-02)
Edited by: Tate Tunstall (2009-11-02)

Species Account Citation: AmphibiaWeb 2009 Scinax elaeochrous: Olive tree frog <https://amphibiaweb.org/species/1110> University of California, Berkeley, CA, USA. Accessed Dec 5, 2023.
---

Feedback or comments about this page.

Citation: AmphibiaWeb. 2023. <https://amphibiaweb.org> University of California, Berkeley, CA, USA. Accessed 5 Dec 2023.

AmphibiaWeb's policy on data use.