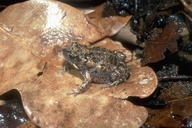 &copy 2002 Jean-Marc Hero (1 of 9)

Distribution and Habitat


Country distribution from AmphibiaWeb's database: Australia

North-eastern Queensland, including Cape York and the islands of the Torres Strait. The extent of occurrence of the species is approximately 136100 km2

Life History, Abundance, Activity, and Special Behaviors
Open eucalypt and Melaleuca woodland with grassy understorey and grassland. Breeds in temporary pools such as, claypans and drainage ditches that are flooded by monsoonal rains. Summer breeder. Males call from beneath leaf litter. Few eggs are laid in flooded depressions. Tadpole development is unknown.

Trends and Threats
No known declines and extent of occurrence > 20,000km2.

Threats
None known.

Conservation Measures
None in place.

References


Barker, J., Grigg, G. C., and Tyler, M. J. (1995). A Field Guide to Australian Frogs. Surrey Beatty and Sons, New South Wales.

Cogger, H.G. (1992). Reptiles and Amphibians of Australia. Reed Books, New South Wales.
---

Originally submitted by: Jean-Marc Hero et. al. (first posted 2002-04-05)
Edited by: Ambika Sopory (2008-09-18)

Species Account Citation: AmphibiaWeb 2008 Uperoleia mimula: Mimic Toadlet <https://amphibiaweb.org/species/3618> University of California, Berkeley, CA, USA. Accessed Sep 24, 2023.
---

Feedback or comments about this page.

Citation: AmphibiaWeb. 2023. <https://amphibiaweb.org> University of California, Berkeley, CA, USA. Accessed 24 Sep 2023.

AmphibiaWeb's policy on data use.