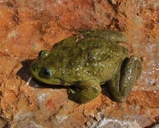 &copy 2010 Tiffany Kosch (1 of 4)

Distribution and Habitat


Country distribution from AmphibiaWeb's database: Bolivia, Chile, Peru

Known from the Lake Titicaca region of Peru and Bolivia, and the Cuzco region of Peru. Due to unclear taxonomy, it may also be distributed in Andean highlands of Bolivia and into extreme northeastern Chile and Jujuy Province, Argentina but it is controversial.

Comments
Etymology: Telma (from Greek) A pond or pool and marmor (from Greek) marble; sparkle or glisten.

This species was featured in News of the Week March 27, 2017:
High elevation tropical environments are experiencing rapid change as a consequence of climate warming, and their glaciers are melting fast. The ongoing deglaciation is opening up new aquatic habitats for pond-breeding amphibians. Seimon et al. (2017) describe the vertical migration of Pleurodema marmoratum, Rhinella spinulosa and Telmatobius marmoratus to newly deglaciated ponds up to 5400 m in the Andean Cordillera de Vilcanota of Peru. Over the past decade, the newly established anuran populations have endured chytrid epizootics, changes in pond hydrology, and sharp reduction in the abundance of T. marmoratus. Despite these challenges, the three species continue to breed in this system of connected wetlands, and populations of T. marmoratus have recently recovered, possibly because individuals have acquired greater resistance to chytridiomycosis. (ACatenazzi)
---

Originally submitted by: Emma Steigerwald (2021-08-20)
Edited by: Michelle S. Koo (2021-08-20)

Species Account Citation: AmphibiaWeb 2021 Telmatobius marmoratus: Marbled Water Frog <https://amphibiaweb.org/species/2708> University of California, Berkeley, CA, USA. Accessed Jun 3, 2023.
---

Feedback or comments about this page.

Citation: AmphibiaWeb. 2023. <https://amphibiaweb.org> University of California, Berkeley, CA, USA. Accessed 3 Jun 2023.

AmphibiaWeb's policy on data use.