Polypedates leucomystax (Gravenhorst, 1829)
Common Tree Frog, Asian Brown Treefrog, Four-Lined Tree Frog, Golden Tree Frog
family: Rhacophoridae
subfamily: Rhacophorinae
genus: Polypedates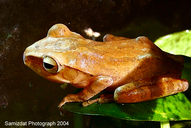 &copy 2004 Samizdat Makein (1 of 75)
| | |
| --- | --- |
| | hear call (1830.5K WAV file) |
| | hear call (1830.5K WAV file) |
| | hear call (3528.3K WAV file) |
| | hear call (3528.3K WAV file) |
| | hear call (990.3K MP3 file) |
Description
Polypedates leucomystax is a small to medium-sized common tree frog, with males averaging 50 mm in total length and females averaging 80 mm in total length (McKay 2006). P. leucomystax ground color is a variable shade of brown, ranging from pale brown to yellow-brown, reddish brown, gray-brown, or dark brown (McKay 2006). Throughout most of its range, patterning is prevalent, and the pattern varies from spotted to longitudinally striped. Plain forms are also seen but not as commonly. (Frith 1977; McKay 2006). However, on Bali, the most common form is plain, without pattern. (McKay 2006).

Distribution and Habitat


Country distribution from AmphibiaWeb's database: Bangladesh, India, Indonesia, Japan, Lao People's Democratic Republic, Malaysia, Myanmar, Philippines, Singapore, Thailand, Viet Nam

Malaysian region distribution from AmphibiaWeb's database: Peninsular Malaysia, Sabah, Sarawak

Polypedates leucomystax is widely distributed throughout South and Southeast Asia. It thrives in both wetlands and forests. In urban settings, P. leucomystax can be found in garden ponds, on buildings, and on roads (Frith, 1977)[3663].

Life History, Abundance, Activity, and Special Behaviors
Breeding is year-round in some parts of the range such as north Borneo and the wetter parts of Bali. However, in drier areas such as north Bali, breeding is restricted to the start of the wet season. Males congregate at still or slow-moving water, or puddles, and call from the edges or elevated positions on vegetation. The call has been described as a "widely spaced nasal quack, and occasionally a low throaty chuckle" (McKay 2006).

Polypedates leucomystax females deposit from 100-400 eggs in oval-shaped foam nests (Yorke 1983). The foam nests measure about 10 cm in length and are constructed on vegetation above ephemeral pools (Yorke 1983), or attached to a surface by the water's edge (McKay 2006). Hatching takes place after three to four days, occurring at the external gill stage (Yorke 1983; McKay 2006). At this point the larvae wriggle free of the foam nest and drop into the water below (McKay 2006).

Larva
Tadpoles are opportunistic predators, attacking and consuming nearly anything they can, including both live and dead conspecific tadpoles and decaying vegetation. From hatching to metamorphosis takes approximately seven weeks (Yorke 1983).

Trends and Threats
It is currently not threatened, due to its tolerance for various environmental conditions, and is abundant throughout its range (Frith, 1977)[3663].

References


Frith, D. W. (1977). ''A preliminary list of the amphibia of Phuket Island and adjacent mainland Peninsular Thailand.'' Natural History Bulletin of the Siam Society, 26(3-4), 189-199.

McKay, J.L. (2006). A Field Guide to the Amphibians and Reptiles of Bali. Krieger Publishing Company, Malabar, Florida.

Yorke, C. (1983). ''Survival of embryos and larvae of the frog Polypedates leucomystax in Malaysia.'' Journal of Herpetology, 17(3), 235-241.
---

Originally submitted by: Kellie Whittaker, Gary Tsai (first posted 2005-10-24)
Edited by: Kellie Whittaker, Michelle S. Koo (2022-08-18)

Species Account Citation: AmphibiaWeb 2022 Polypedates leucomystax: Common Tree Frog <https://amphibiaweb.org/species/4479> University of California, Berkeley, CA, USA. Accessed Sep 28, 2023.
---

Feedback or comments about this page.

Citation: AmphibiaWeb. 2023. <https://amphibiaweb.org> University of California, Berkeley, CA, USA. Accessed 28 Sep 2023.

AmphibiaWeb's policy on data use.