Papurana daemeli
Wood Frog
family: Ranidae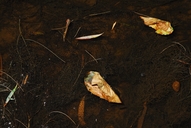 &copy 2010 Eric Vanderduys (1 of 3)
| | |
| --- | --- |
| | hear call (991.3K MP3 file) |
| | hear call (7284.2K WAV file) |
| | hear call (951.2K MP3 file) |
| | hear call (6990.2K WAV file) |
Distribution and Habitat


Country distribution from AmphibiaWeb's database: Australia, Indonesia, Papua New Guinea

Restricted to Cape York Peninsula in northern Queensland. The extent of occurrence of the species is approximately 158500 km2

Life History, Abundance, Activity, and Special Behaviors
A semi-aquatic frog found in rainforest, seasonally dry monsoon forests and tropical woodlands. Usually in association with permanent streams, lakes, pools and lagoons. Hides amongst dense vegetation near water. Breeds in summer and spring. Lays several thousand eggs in a large mass. Tadpole is free- swimming.

Trends and Threats
No known declines and extent of occurrence > 20,000km2.

Threats
None known.

Conservation Measures
None in place.

References


Barker, J., Grigg, G. C., and Tyler, M. J. (1995). A Field Guide to Australian Frogs. Surrey Beatty and Sons, New South Wales.

Cogger, H.G. (1992). Reptiles and Amphibians of Australia. Reed Books, New South Wales.
---

Written by J-M Hero et al. (m.hero AT mailbox.gu.edu.au), Griffith University
First submitted 2002-04-05
Edited by Ambika Sopory (2008-09-24)

Species Account Citation: AmphibiaWeb 2008 Papurana daemeli: Wood Frog <http://amphibiaweb.org/species/5015> University of California, Berkeley, CA, USA. Accessed Jan 17, 2020.
---

Feedback or comments about this page.

Citation: AmphibiaWeb. 2020. <http://amphibiaweb.org> University of California, Berkeley, CA, USA. Accessed 17 Jan 2020.

AmphibiaWeb's policy on data use.