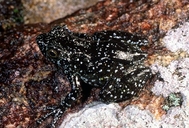 &copy 2003 Franco Andreone (1 of 8)

Description
The following description is a generalized one. Adults 30-45 mm. Tibiotarsal articulation reaches between eye and nostrils. Hands without webbing, feet almost completely webbed: 1(0), 2i/e(0), 3i/e(0), 4i/e(0.5-0), 5(0). Fingers and toes with well-developed terminal discs. Dorsal skin relatively smooth with numerous scattered larger tubercles. Dorsally light brown with three large olive-green to blackish patches (Glaw and Vences 2007).

Distribution and Habitat


Country distribution from AmphibiaWeb's database: Madagascar

Speciecs has been recorded at Andasibe, Mantadia, Vohidrazana, probably Ranomafana (Glaw and Vences 2007) from sea level up to 1500m asl (Nussbaum and Vences 2008).

Life History, Abundance, Activity, and Special Behaviors
Habits: Commonly found along streams, sitting on rocks and stones next to the water, but not necessarily in very rapidly flowing sections. Males call at night, either from elevated positions on these rocks or from relatively high positions in trees along streams (Glaw and Vences 2007).

Calls: An isolated, rapid pulsed trill note (Glaw and Vences 2007).

Trends and Threats
This species is listed as least concern because of its wide distribution, tolerance of a broad range of habitats, presumed large population, and because it is unlikely to be declining fast enough to qualify for listing in a more threatened category. It occurs in many protected areas and is probably not affected by anything other than very extreme deforestation, and is adaptable and is unlikely to be threatened (Nussbaum and Vences 2008).

Comments
Taken with permission from Glaw and Vences (2007) and Nussbaum and Vences (2008).

References


Glaw, F., and Vences, M. (2007). Field Guide to the Amphibians and Reptiles of Madagascar. Third Edition. Vences and Glaw Verlag, Köln.

Nussbaum, R. and Vences, M. (2008). Mantidactylus lugubris. In: IUCN 2008. 2008 IUCN Red List of Threatened Species. www.iucnredlist.org. Downloaded on 08 April 2009.
---

Originally submitted by: Miguel Vences and Frank Glaw (first posted 2000-11-27)
Edited by: Catherine Aguilar (2009-05-01)

Species Account Citation: AmphibiaWeb 2009 Mantidactylus lugubris <https://amphibiaweb.org/species/4609> University of California, Berkeley, CA, USA. Accessed Sep 23, 2023.
---

Feedback or comments about this page.

Citation: AmphibiaWeb. 2023. <https://amphibiaweb.org> University of California, Berkeley, CA, USA. Accessed 23 Sep 2023.

AmphibiaWeb's policy on data use.