Litoria gracilenta (Peters, 1869)
Dainty Green Tree Frog
family: Hylidae
subfamily: Pelodryadinae
genus: Litoria


Taxonomic Notes: Following the Australian Society of Herpetology, AmphibiaWeb uses Litoria instead of Ranoidea or Dryopsophus (contrary to Dubois and Fretey 2016 and Duellman et al 2016).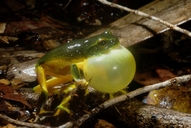 &copy 2010 Eric Vanderduys (1 of 14)

Distribution and Habitat


Country distribution from AmphibiaWeb's database: Australia, Papua New Guinea

Occurs along the coast of Queensland and northern New South Wales. The extent of occurrence of the species is approximately 320500 km2

Life History, Abundance, Activity, and Special Behaviors
Found in a wide variety of moist forest or woodland habitats. It may be found on reeds and floating vegetation in streams and swamps, but is also common in disturbed habitats such as fruit plantations. During winter it shelters in the crowns of trees well away from water. Breeds in spring and summer. Eggs are attached to stems of grass in ponds. Tadpoles take about 14 weeks to mature.

Trends and Threats
No known declines and large extent of occurrence.

Threats
Commonly relocated in the transportation of fresh produce.

Conservation Measures
None in place.

References


Barker, J., Grigg, G. C., and Tyler, M. J. (1995). A Field Guide to Australian Frogs. Surrey Beatty and Sons, New South Wales.

Cogger, H.G. (1992). Reptiles and Amphibians of Australia. Reed Books, New South Wales.
---

Originally submitted by: Jean-Marc Hero et. al. (first posted 2002-04-05)
Edited by: Ambika Sopory (2008-09-16)

Species Account Citation: AmphibiaWeb 2008 Litoria gracilenta: Dainty Green Tree Frog <https://amphibiaweb.org/species/1253> University of California, Berkeley, CA, USA. Accessed Sep 30, 2023.
---

Feedback or comments about this page.

Citation: AmphibiaWeb. 2023. <https://amphibiaweb.org> University of California, Berkeley, CA, USA. Accessed 30 Sep 2023.

AmphibiaWeb's policy on data use.