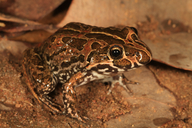 &copy 2014 Ryan J. Ellis (1 of 11)

Distribution and Habitat


Country distribution from AmphibiaWeb's database: Australia, Papua New Guinea

Northern Australia. From the Kimberley region in Western Australia, east through the Northern Territory and northern Queensland in Eurimbulah National Park. The extent of occurrence of the species is approximately 586000 km2.

Life History, Abundance, Activity, and Special Behaviors
Usually in swampy areas among long grass. Low-lying areas exposed to seasonal flooding. Breeds between October and March. Males call from concealed positions at the base of grass tussocks, in debris or in vacated burrows of freshwater crabs. Eggs are deposited in a floating foam nest in temporary pools.

Trends and Threats
No known declines and large extent of occurrence (>20,000km2).

Threats
None known.

Conservation Measures
Protected where it occurs in National Parks as in Queensland.

References


Barker, J., Grigg, G. C., and Tyler, M. J. (1995). A Field Guide to Australian Frogs. Surrey Beatty and Sons, New South Wales.

Davies, M. and Watson, G.F. (1994). ''Morphology and reproductive biology of Limnodynastes salmini, L. convexiusculus and Megistolotis lignarius (Anura: Leptodactylidae: Limnodynastinae).'' Transactions of the Royal Society of South Australia, 118(3), 149–169.

Margules, C.R., Davies, K.F., Meyers, J.A., and Milkovits, G.A. (1995). ''The responses of some selected arthropods and the frog Crinia signifera to habitat fragmentation.'' Conserving Biodiversity: Threats and Solutions. Surrey Beatty and Sons, Sydney, 94-103.
---

Originally submitted by: Jean-Marc Hero et. al. (first posted 2002-04-05)
Edited by: Ambika Sopory, Jean-Marc Hero (2008-09-18)

Species Account Citation: AmphibiaWeb 2008 Limnodynastes convexiusculus: Marbled Frog <https://amphibiaweb.org/species/3503> University of California, Berkeley, CA, USA. Accessed Oct 1, 2023.
---

Feedback or comments about this page.

Citation: AmphibiaWeb. 2023. <https://amphibiaweb.org> University of California, Berkeley, CA, USA. Accessed 1 Oct 2023.

AmphibiaWeb's policy on data use.