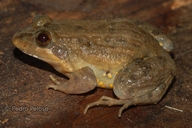 &copy 2010 Pedro L. V. Peloso (1 of 1)

Conservation Status (definitions)
IUCN (Red List) Status
Least Concern (LC)
CITES


Other International Status
None
National Status
None
Regional Status
None
Range Description
This species is known from the central Brazilian Cerrado, from the states of Goiás, Mato Grosso and Tocantins, Ceara and Maranhão. It has been recorded from 400-1,000m asl.
Habitat and Ecology
It occurs in Cerrado savannah on the ground near permanent waterbodies, where it also breeds. It vocalizes in open areas. It adapts well to anthropogenic disturbance (even occurring in urban areas).
Population
It is a common species.
Population Trend
stable
Major Threats
There are no major threats to this species.
Conservation Actions
Its range includes several protected areas.
Red List Status
Least Concern (LC)
Rationale
Listed as Least Concern in view of its wide distribution, tolerance of a broad range of habitats, presumed large population, and because it is unlikely to be declining fast enough to qualify for listing in a more threatened category.
Citation
Rogério Bastos, Ronald Heyer, Débora Silvano 2004. Leptodactylus pustulatus. The IUCN Red List of Threatened Species 2004: e.T57159A11578364. http://dx.doi.org/10.2305/IUCN.UK.2004.RLTS.T57159A11578364.en .Downloaded on 19 February 2019
IUCN Terms of Use