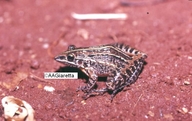 &copy 2004 Ariovaldo Giaretta (1 of 4)
| | |
| --- | --- |
| | hear call (175.7K MP3 file) |
| | hear call (122.0K WAV file) |
| | hear call (1212.5K MP3 file) |
| | hear call (1179.3K MP3 file) |
Range Description
This species is known from central to southern Brazil; also in Uruguay (Riveira Department). Its altitudinal range is from 200-1,200m asl.
Habitat and Ecology
It occurs in open areas, on the ground, near waterbodies. It lays its eggs under the ground, and the tadpoles are carried by water to ponds. It adapts well to anthropogenic disturbance (has been collected in Eucalyptus plantations).
Population
It is a common species.
Population Trend
Stable
Major Threats
Agriculture, extraction (mining), fire and infrastructure development (dams) are all threats.
Conservation Actions
It occurs in several protected areas.
Red List Status
Least Concern (LC)
Citation
Guarino Colli, Luciana Barreto Nascimento, Débora Silvano, Jose Langone 2004. Leptodactylus furnarius. In: IUCN 2014
IUCN Terms of Use