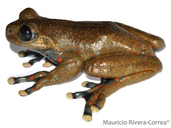 &copy 2013 Mauricio Rivera Correa (1 of 1)

Country distribution from AmphibiaWeb's database: Colombia, Ecuador




Vernacular Name

Rana de torrente del suro

State/Provinces

Carchi, Sucumbíos

Natural Regions

Bosque Montano Oriental

Identification

Se diferencia por tener pequeñas manchas naranja en el dorso, dedos con discos amarillos, vientre moteado blanco y la región cloacal hinchada. Otras especies del género Hyloscirtus con discos de color contrastante no tienen las manchas pálidas en el dorso y el moteado blanco en el vientre. Hyliscirtus lindae es uniformemente negra cafezusca dorsal y ventralmente. Por otro lado, Hyloscirtus larinopygion no tiene las manchas dorsales pálidas ni los discos coloridos. Hyloscirtus princecharlesi también tiene marcas anaranjadas en el dorso pero sus discos son grises (5).

Description

Es una rana grande que presenta la siguiente combinación de caracteres (3): (1) cuerpo moderadamente robusto; superficies dorsales areoladas; vientre y superficies internas finamente granulares; región anal hinchada; (2) cabeza plana y más ancha que el cuerpo; (3) hocico redondeado en vista lateral; canto rostral angular; región loreal muy cóncava; (4) tímpano visible ligeramente cubierto por un pliegue supratimpánico; (5) procesos prevomerinos ligeramente curvados; (6) extremidades anteriores más robustas hacia las manos, sin pliegue ulnar ni tubérculos; dedos largos con discos redondos grandes y membrana interdigital; varios tubérculos subcónicos en las palmas; tubérculos subarticulares largos, planos y redondos; tubérculo prepólico elíptico; (7) extremidades posteriores moderadamente robustas; discos de los dedos del pie ligeramente más pequeños que los de las manos; membrana interdigital presente; pliegues tarsales ausentes; tubérculo metatarsal interno ovoide; tubérculos subarticulares largos y subcónicos; tubérculos supernumerarios ausentes; (8) saco vocal ligeramente individual, mediano y subgular.

Color in Life

Superficies dorsales de la cabeza, cuerpo y extremidades de color café oliva con puntos pequeños color naranja. Vientre negro con un moteado blanco y manchas naranjas en la garganta. Superficies internas en las extremidades posteriores negras con barras verticales naranjas, a excepción de los muslos que tienen puntos naranjas. Discos de color amarillo brillante. Iris gris (3).

Males Face Cloacal Length Average

promedio = 61.81 mm (rango 55.54 - 68.14; n = 14) (4

Females Face Cloacal Length Average

64.1 mm (n = 1) (3

Habitat and Biology

Solo ha sido encontrada en bosque parcialmente talado, donde las ranas han sido observadas en la noche en ramas de árboles sobre un riachuelo. Sin embargo, su adaptabilidad a hábitats alterados no se conoce bien (3).

Reproduction

Se reproducen en riachuelos (3).

Distribution

Ha sido registrada solamente en el extremo noreste de los páramos alrededor de "Santa Bárbara", en la Cordillera Oriental, en el límite con Colombia (3). Existe un registro para la provincia de Napo (4).

Global Distribution

Altitudinal Range

de 1950 a 2700 m sobre el nivel del mar

Taxonomy and Evolutionary Relationships

Es parte del grupo de especies

Hyloscirtus larinopygion

. Está cercanamente relacionada con

Hyloscirtus lindae

(

6

,

9

). Las filogenias de Wiens et al. (

1

) y Duellman y Hillis (

2

) no reportan una relación cercana con

Hyloscirtus lindae

por un error de identificación de una de las muestras (S. R Ron, no publicado). Véase sinónimos y comentarios taxonómicos en Frost (

5

). Duellman et al. (

7

) transfirieron a esta especie al género

Colomascirtus

, el cual posteriormente fue sinonimizado con el género

Hyloscirtus

por Rojas-Runjaic et al. (

8

).

Etymology

Se deriva del griego "pantostiktos" que significa manchado (3).

Additional Information

El canto, renacuajo y la osteología fueron descritas por Coloma et al. (6).
Summary Author
Luis A. Coloma, Caty Frenkel, Santiago R. Ron y Nadia Páez-Rosales
Editor
Luis A. Coloma y Santiago R. Ron
Edition Date
2010-06-17T00:00:00
Update Date
2022-09-23T18:23:09.203
Literature Cited
Wiens, J. J., Kuczynski, C. A., Hua, X. y Moen, D. S. 2010. An expanded phylogeny of treefrogs (Hylidae) based on nuclear and mitochondrial sequence data. Molecular Phylogenetics and Evolution 55:871-882.PDF
Duellman, W. E. y Hillis, D. M. 1990. Systematics of frogs of the Hyla larinopygion group. Occasional Papers of the Museum of Natural History, The University of Kansas, Lawrence, Kansas 134:1-23.
Duellman, W. E. y Berger, T. J. 1982. A new species of andean tree frog (Hylidae). Herpetologica 38:456-460.PDF
Frost, D. R. 2010. Amphibian species of the world: an online reference. Version 5.4 (8 April, 2010). Electronic Database accessible at http://research.amnh.org/vz/herpetology/amphibia/. American Museum of Natural History, New York, USA.
Coloma, L. A., Carvajal-Endara, S., Dueñas, J. F., Paredes-Recalde, A., Morales-Mite, M., Almeida-Reinoso, D., Tapia, E. E., Hutter, C. R., Toral, E. y Guayasamin, J. M. 2012. Molecular phylogenetics of stream treefrogs of the Hyloscirtus larinopygion group (Anura: Hylidae), and description of two new species from Ecuador. Zootaxa 3364:1-78.
Duellman, W. E., Marion, A. B., Hedges, S. B. 2016. Phylogenetics, classification, and biogeography of the treefrogs (Amphibia: Anura: Arboranae). Zootaxa 4104:1.
Ron, S. R. 2018. Base de datos de la colección de anfibios del Museo de Zoología (QCAZ). Versión 1.0. Pontificia Universidad Católica del Ecuador. Disponible en
https://bioweb.bio/portal/
Rojas-Runjaic, F., Infante-Rivero, E., Salerno, P., Meza-Joya, F. L. 2018. A new species of Hyloscirtus (Anura, Hylidae) from the Colombian and Venezuelan slopes of Sierra de Perijá, and the phylogenetic position of Hyloscirtus jahni (Rivero, 1961). Zootaxa 4382: 121-146.
Jetz, W., Pyron, R. A. 2018. The interplay of past diversification and evolutionary isolation with present imperilment across the amphibian tree of life. Nature Ecology & Evolution 2: 850-858.