Hyla arenicolor
Canyon Treefrog
Subgenus: Dryophytes

family: Hylidae
subfamily: Hylinae
Taxonomic Notes: Duellman et al. (Zootaxa 2016) treated two major clades as genera; AmphibiaWeb treats these two clades as subgenera(Hyla in the Old World; Dryophytes in the New World and East Asia), thus stabilizing traditional taxonomy.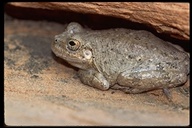 Gerald and Buff Corsi
&copy 2001 California Academy of Sciences (1 of 53)
| | |
| --- | --- |
| | hear call (350.6K MP3 file) |
Range Description
This species occurs from western and southeastern Colorado and southern Utah, south through Arizona and western New Mexico in the USA to northern Oaxaca in Mexico. There are also isolated populations in northeastern New Mexico and the Big Bend area of western Texas. It is found from near sea level to about 3,000 m asl (Stebbins 1985).
Habitat and Ecology
This frog requires temporary or permanent pools in rocky arid scrub and mountains. It is found in rocky canyons and along intermittent or permanent streams. It frequents arroyos in semi-arid grassland, streams in pinon-juniper and pine-oak woodlands, and tropical scrub forest (Mexico) (Stebbins 1985). It is primarily terrestrial, and in breeds in pools along canyon-bottom streams.
Population
The total adult population size is unknown, but this species is common in some areas. The population is believed to be stable.
Population Trend
stable
Major Threats
This species has well adapted populations along its wide range.
Conservation Actions
This species occurs in a wide variety of habitats and part of its range includes Biosphere Reserves and Natural parks.
Red List Status
Least Concern (LC)
Rationale
Listed as Least Concern in view of its wide distribution, presumed large population, and because it is unlikely to be declining fast enough to qualify for listing in a more threatened category.
Taxonomic Notes
The genus Dryophytes was resurrected from synonymy under Hyla by Duellman et al. (2016) and this species was transferred from Hyla to Dryophytes.
Citation
Hammerson, G.A. & Santos-Barrera, G. 2017. Dryophytes arenicolor. The IUCN Red List of Threatened Species 2017: e.T55396A112711835. http://dx.doi.org/10.2305/IUCN.UK.2017-1.RLTS.T55396A112711835.en .Downloaded on 21 February 2019
IUCN Terms of Use