Engystomops pustulosus
Túngara frog
family: Leptodactylidae
subfamily: Leiuperinae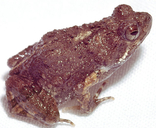 &copy 2011 Richard Sage (1 of 47)

Description
Males are approximately 30 mm long and females are slightly larger. The skin of the túngara frog is brown and pustular, giving it a toadlike appearance that is reflected in its scientific name (Ryan 1985). No teeth are present on the maxilla and premaxilla; tubercles are present on the dorsum in a variable pattern that may include large tubercles in longitudinal rows, chevrons, or both large and small tubercles randomly scattered (Cannatella and Duellman 1984). It also has a tuberculate tympanic membrane and the first finger is longer than the second.

Distribution and Habitat


Country distribution from AmphibiaWeb's database: Belize, Colombia, Costa Rica, El Salvador, Guatemala, Honduras, Mexico, Nicaragua, Panama, Trinidad and Tobago, Venezuela

Mexico to Colombia and Venezuela, generally in lowland areas (up to 1,540 m asl) (Santos-Barrera et al. 2008). Found in savannahs as well as both natural and disturbed humid lowland and montane forest, tropical dry forest, and open environments such as pastures. Can tolerate secondary growth and forest edges. Often found near ponds, both natural and man-made. It also makes use of smaller bodies of water such as ditches, puddles, and potholes.

Life History, Abundance, Activity, and Special Behaviors
Engystomops pustulosus lays its eggs in foam nests, generally under cover, in pools. The foam nests are believed to prevent egg desiccation during brief periods without rain (Ryan 1985). Laying eggs under cover may help avoid predation (Tarano 1998). Eggs are laid in a variety of habitats, including disturbed areas. However, pond use is correlated with proximity to other ponds, making this species vulnerable to habitat fragmentation (Marsh et al. 1999).

Males call at night while floating in the water. The call has two components: a whine and 0-6 chucks. Studies show that females prefer the calls with the chucks incorporated, but males of this species are preyed upon by the fringe-lipped bat (Trachops cirrhosus) which homes in on the chucks, providing an interesting case of sexual selection opposing natural selection (Ryan 1985).

Trends and Threats
This species is generally quite common in Central and South America and can occupy diverse habitats, including disturbed ones. It is not common in Belize or in southwestern Campeche, Mexico. It does not seem to be currently threatened. Its range overlaps with a number of protected areas (Santos-Barrera et al. 2008).

Comments
Can frogs with foam nests help make biofuels? The long-lasting foam nests of the Túngara frog (Engystomops pustulosus) help protect its tadpoles. Now a team of researchers has designed a novel artificial photosynthesis system suspended in a foam, using the Túngara frog surfactant protein Ranaspumin-2. The system could produce up to 10-fold more biofuel per hectare than plants and could be used on rooftops and nonarable land (Wendell et al. 2010).

This species was featured as News of the Week on 14 January 2019:
Human activities ranging from vehicle traffic to industry are making the world an increasingly noisy place to live in; two recent studies show frogs have found ways to cope with the human soundscape. Tennessen et al. (2018) studied wood frogs (Rana sylvatica) in northeastern United States where noise from vehicle traffic is physiologically stressful to recently metamorphosed tadpoles, negatively impacting frog health. However, these researchers found that wood frogs from populations living near human noise have rapidly evolved to no longer be stressed by noisy human environments. In Panama, predators like bats and midges avoid noisy urban areas because they rely on sounds to hunt. Halfwerk and colleagues (2018) found that male túngara frogs (Engystomops pustulosus) from urban habitats can flexibly adjust their calls. Urban dwelling male túngara create more conspicuous calls, which are more attractive to females. When these urban males are placed in the forest, they adjust their calls to be less conspicuous and therefore less obvious to predators. Male túngara frogs from forests are unable to flexibly adjust their calls if they are placed in the city. Together, these studies show that some frogs species can rapidly evolve to deal with noisy human environments whereas others can adjust their behaviors accordingly (Written by Max Lambert).

Video by the Royal Society.

A Spanish-language species account can be found at the website of Instituto Nacional de Biodiversidad (INBio).

Read further species account by Ruth Inness in 'Online guide to the Animals of Trinidad and Tobago'.

References


Cannatella, D.C. and Duellman, W.E. (1984). ''Leptodactylid frogs of the Physalaemus pustulosus group.'' Copeia, 1984(4), 902-921.

Marsh, D.M., Fegraus, E.H., and Harrison, S. (1999). ''Effects of breeding pond isolation on the spatial and temporal dynamics of pond use by the Tungara Frog, Physalaemus pustulosus.'' Journal of Animal Ecology, 68, 804-814.

Ryan, M.J. (1985). The Túngara Frog: A Study in Sexual Selection and Communication. University of Chicago Press, Chicago.

Ryan, M.J., Rand, A.S., and Weigt, L.A. (1996). ''Allozyme and advertisement call variation in the Tungara frog, Physalaemus pustulosus.'' Evolution, 50(6), 2435-2453.

Santos-Barrera, G., Solís, F., Ibáñez, R., Wilson, L. D., Savage, J., Bolaños, F., Lee, J., Chaves, G., Señaris, C., Acosta-Galvis, A., and Hardy, J. 2008. Engystomops pustulosus. In: IUCN 2010. IUCN Red List of Threatened Species. Version 2010.1. www.iucnredlist.org. Downloaded on 29 March 2010.

Tárano, Z. (1998). ''Cover and ambient light influence nesting preferences in the Túngara Frog Physalaemus pustulosus.'' Copeia, 1998(1), 250-251.

Wendell, D., Todd, J., and Montemagno, C. (2010). ''Artificial photosynthesis in ranaspumin-2 based foam.'' Nano Letters, DOI: 10.1021/nl100550k.
---

Originally submitted by: Michelle Knapp (first posted 2003-01-09)
Edited by: Kellie Whittaker, Michelle S. Koo, Ann T. Chang (2019-01-16)

Species Account Citation: AmphibiaWeb 2019 Engystomops pustulosus: Túngara frog <https://amphibiaweb.org/species/3414> University of California, Berkeley, CA, USA. Accessed Sep 16, 2021.
---

Feedback or comments about this page.

Citation: AmphibiaWeb. 2021. <https://amphibiaweb.org> University of California, Berkeley, CA, USA. Accessed 16 Sep 2021.

AmphibiaWeb's policy on data use.