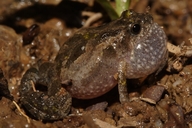 &copy 2013 Nathan Litjens (1 of 2)

Distribution and Habitat


Country distribution from AmphibiaWeb's database: Australia

Found in the dry mid-region of Australia. Distribution from mid-western border of northern Territory, south-east into western Queensland and New South Wales and the north-east corner of South Australia.

The extent of occurrence of the species is approximately 972400 km2.

Life History, Abundance, Activity, and Special Behaviors
Found in arid regions. It is often associated with static temporary or permanent water bodies where it shelters under leaves. Has also been found in artificial habitats, like dams, and sheltering under corrugated iron and timber piles. Commonly found in areas of black soil.

Spawn clumps are attached to submerged vegetation in pools or swamps.

Trends and Threats
No known declines and large extent of occurrence.

References


Barker, J., Grigg, G. C., and Tyler, M. J. (1995). A Field Guide to Australian Frogs. Surrey Beatty and Sons, New South Wales.
---

Originally submitted by: Jean-Marc Hero et. al. (first posted 2002-05-06)
Edited by: JG (2008-09-16)

Species Account Citation: AmphibiaWeb 2008 Crinia deserticola: Desert Froglet <https://amphibiaweb.org/species/3554> University of California, Berkeley, CA, USA. Accessed Oct 1, 2023.
---

Feedback or comments about this page.

Citation: AmphibiaWeb. 2023. <https://amphibiaweb.org> University of California, Berkeley, CA, USA. Accessed 1 Oct 2023.

AmphibiaWeb's policy on data use.