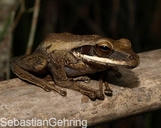 &copy 2010 Philip-Sebastian Gehring (1 of 5)

Description
A brown, large treefrog; males 52-57 mm, females 85 mm. Back uniformly beige or light brown. Temporal and loral regions dark brown. Often a white band along the upper lip. Dark bands are usually present on the limbs. Venter cream. Skin on the back smooth in females, sometimes granular in males. Nostrils nearer to tip of snout than to eye. Tympanum/eye ratio is 3/4. Tibiotarsal articulation reaches the nostrils. Hand without webbing; webbing of the foot 1(0), 2i(1), 2e(0), 3i(1), 3e(0), 4i/e(1), 5(0). Males with small blackish nuptial pads and a moderately distensible, single subgular vocal sac.

Similar species: Other species of the B. tephraeomystax group are smaller. Species of Guibemantis have an outer metatarsal tubercle (absent in Boophis). Other large Boophis (B. albilabris, B. goudoti, B. periegetes) have at least some webbing between the fingers.

Distribution and Habitat


Country distribution from AmphibiaWeb's database: Madagascar

Ambohimanana, Cap Est, Foulpointe, Mananara, Manombo, Nosy Boraha, Pic St. Louis, near Ifanadiana, Tampolo, Tolagnaro. Observed in coastal areas of the east, near sea level(up to 550m asl) (Nussbaum et al. 2008).

Life History, Abundance, Activity, and Special Behaviors
Habits: Generally found outside the forest. Males call from the vegetation of stagnant, shallow pools. Axillary clasping was observed between collected males.

Call (from Nosy Boraha and Tolagnaro): Consists of a series of normally 2-5 unharmonious notes and is repeated after 850-1200 ms; note duration is 50-100 ms and duration of intervals between notes 70-130 ms. Call repetition rate is about 42/min. During a call series the number of notes can increase, for example from 2 in the first call to 5 in the fifth call. Frequency ranges from 1 to 2.5 kHz.

Eggs and tadpoles: Unknown.

Trends and Threats
It occurs in the Manombo Special Reserve (Nussbaum et al. 2008).

Comments
Taken with permission from Glaw and Vences (2007).

References


Glaw, F. and Vences, M. (1994). Amphibians and Reptiles of Madagascar. M. Vences and F. Glaw Verlags GbR., Köln.

Glaw, F., and Vences, M. (2007). Field Guide to the Amphibians and Reptiles of Madagascar. Third Edition. Vences and Glaw Verlag, Köln.

Nussbaum, R., Cadle, J., and Raxworthy, C. (2008). Boophis opisthodon. In: IUCN 2008. 2008 IUCN Red List of Threatened Species. www.iucnredlist.org. Downloaded on 31 March 2009.
---

Originally submitted by: Miguel Vences and Frank Glaw (first posted 2000-10-30)
Edited by: Henry Zhu (2009-05-05)

Species Account Citation: AmphibiaWeb 2009 Boophis opisthodon <https://amphibiaweb.org/species/4355> University of California, Berkeley, CA, USA. Accessed Oct 4, 2023.
---

Feedback or comments about this page.

Citation: AmphibiaWeb. 2023. <https://amphibiaweb.org> University of California, Berkeley, CA, USA. Accessed 4 Oct 2023.

AmphibiaWeb's policy on data use.