Boana prasina (Burmeister, 1856)
Burmeister's Treefrog
family: Hylidae
subfamily: Hylinae
genus: Boana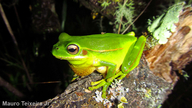 &copy 2018 Mauro Teixeira Jr (1 of 10)
| | |
| --- | --- |
| | hear call (1144.6K MP3 file) |
| | hear call (166.3K MP3 file) |
| | hear call (1188.7K MP3 file) |
Distribution and Habitat


Country distribution from AmphibiaWeb's database: Brazil

Known from the foothills (above 800 m asl) of southeastern Brazil in the states of Minas Gerais, Rio de Janeiro, São Paulo, Santa Catarina, Parana, and Rio Grande do Sul.

Comments
This species was featured in News of the Week March 4, 2019:
Amphibians possess diverse skin secretions and microbiota, yet we know little about how these chemicals or bacteria are used to communicate. By comparing volatile (odorous) chemicals from Boana prasina treefrogs and from bacteria grown from their skin, Brunetti et al (2019) discovered that the strong odor of B. prasina is partially produced by skin-living bacteria. Odor-producing bacteria had been identified in mammals and insects but were previously unknown in amphibians. Brunetti and colleagues also found that odorous (volatile) chemical profiles differed substantially between males and females, perhaps because of differences in how they spend their time or what they eat, which can influence what microbes survive on the frogs. However, they also suggest these chemical profiles may be shaped by natural selection and could play a role in communication, but more research is needed to test this hypothesis. As stated in their article, "studies on the ecological role of host–microbiome associations in amphibians are in their early infancy" – and we look forward to hearing more. (Written by Rebecca Tarvin)
This species was featured in News of the Week May 1, 2023:
Symbiotic skin microbial communities and skin secretions have been studied in frogs for their immunological effects for decades, however, there are still much to discover about all the other roles they may play. Brunetti et al. (2023) examined Burmeister's Treefrog, Boana prasina, for evidence of chemical signaling and found that their skin secretions contained 10 different compound classes of volatile chemicals, some of which were produced by symbiotic Pseudomonas sp. bacteria. Moreover, these odors varied by sex, which in tandem with acoustic signaling, could play a chemical signaling role in sex recognition and assessment during breeding. These findings open the door to questions that could improve our understanding of amphibian breeding behavior and symbiotic associations. (Written by Ann Chang)
---


Edited by: Michelle S. Koo (2023-04-30)

Species Account Citation: AmphibiaWeb 2023 Boana prasina: Burmeister's Treefrog <https://amphibiaweb.org/species/918> University of California, Berkeley, CA, USA. Accessed Oct 1, 2023.
---

Feedback or comments about this page.

Citation: AmphibiaWeb. 2023. <https://amphibiaweb.org> University of California, Berkeley, CA, USA. Accessed 1 Oct 2023.

AmphibiaWeb's policy on data use.