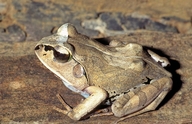 &copy 2008 Miguel Vences and Frank Glaw (1 of 1)

Description
M 39-45 mm, F 60 mm. A very broad-headed and stout species of Aglyptodactylus. Tibiotarsal articulation reaches at most the eye. Hands without webbing, foot webbing 1(1), 2i(1.5-2), 2e(1), 3i(2.5), 3e(2), 4i/e(3.5), 5(1.5). Fingers and toes without terminal discs. Dorsal skin smooth. Dorsum usually greyish brown. Aglyptodactylus have two typical black markings laterally on the snout which are only rarely absent, and a small pair of black markings in the inguinal region.

Distribution and Habitat


Country distribution from AmphibiaWeb's database: Madagascar

Endemic to Madagascar. Found in Kirindy Forest, Madagascar, in western dry deciduous forest. Occurs at about 100m asl (IUCN 2008).

Life History, Abundance, Activity, and Special Behaviors
Lays a large number of small black eggs: over 4000 in one dissected female.

Calls: Slow series of 3-5 pulsed notes.

Frogs of the genus Aglyptodactylus are terrestrial frogs which can be observed during the day jumping in the leaf litter of rainforest or western dry deciduous forest. Often extremely explosive breeders, they gather after heavy rains during the day in temporary waters where they reproduce.

Comments
Taken with permission from Glaw and Vences (2007).

References


Datong, Y., and Shunqing, L. (2004). Cynops cyanurus. In: IUCN 2008. 2008 IUCN Red List of Threatened Species. www.iucnredlist.org. Downloaded on 11 March 2009.

Glaw, F., and Vences, M. (2007). Field Guide to the Amphibians and Reptiles of Madagascar. Third Edition. Vences and Glaw Verlag, Köln.
---

Originally submitted by: Frank Glaw and Miguel Vences (first posted 2008-12-04)
Edited by: Kellie Whittaker (2010-07-19)

Species Account Citation: AmphibiaWeb 2010 Aglyptodactylus laticeps <https://amphibiaweb.org/species/5402> University of California, Berkeley, CA, USA. Accessed Sep 25, 2023.
---

Feedback or comments about this page.

Citation: AmphibiaWeb. 2023. <https://amphibiaweb.org> University of California, Berkeley, CA, USA. Accessed 25 Sep 2023.

AmphibiaWeb's policy on data use.