Dyscophus antongilii
Tomato Frog
family: Microhylidae
subfamily: Dyscophinae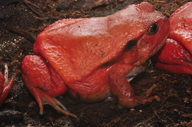 &copy 2015 Dr. Peter Janzen (1 of 28)
| | |
| --- | --- |
| | hear call (178.5K MP3 file) |
Description
A large conspicuously coloured frog. M 60-65 mm, F 85-105 mm. Morphology as D. guineti. Colour uniformly yellow-orange in males, orange-red in females, sometimes with dark colour below dorsolateral folds (Glaw and Vences 2007).

Similar species: Very similar and possibly conspecific to D. guineti which differs by colour pattern (Glaw and Vences 2007).

Distribution and Habitat


Country distribution from AmphibiaWeb's database: Madagascar

Located at Andevoranto, Antongil bay, Fizoana, Iaraka, Maroantsetra, Rantabe, Voloina (Glaw and Vences 2007) from sea level up to 600 m asl (Raxworthy et al. 2008).

Life History, Abundance, Activity, and Special Behaviors
Habits: This species is very common in the Antongil bay area, especially in the town of Maroantsetra where it inhabits most gardens and breeds in ponds and ditches. Here, locals are familiar with this frog and can quickly find them when required as tourist attraction. These frogs have very sticky skin secretions which can produce local swellings in humans. Specimens breed regularly after rainfalls (no particular explosive breeding behaviour) and can be observed all-year round after rains. 1000-1500 small black eggs are laid and hatch 36 hours later (Glaw and Vences 2007).

Calls: A series of short low-pitched notes which is repeated after some intervals. The Malagasy name for this frog "Sangongon" is based on these sounds (Glaw and Vences 2007).

Trends and Threats
This species has been listed as near threatened since 2002 because its extent of occurrence is probably less than 20,000 km2, but the species is adaptable and survives well in disturbed habitats (Raxworthy et al. 2008). Pollution of waterbodies is a potential threat, and in the past this species was subject to collection for international trade, although this is now largely under control and restricted (Raxworthy et al. 2008).

Conservation actions: It occurs in the Réserve Spéciale d'Ambatovaky and probably in Parc National de Masoala. This species is sometimes bred for commercial purposes outside Madagascar, and many specimens exchanged in the pet trade are captive bred. Captive breeding programmes and the CITES Appendix I status of this species have effectively halted commercial exploitation of it in Madagascar (if indeed this was ever a major threat), and any future trade in it needs to be well regulated. There is a well-managed captive breeding programme involving many US zoos, and it is now also kept in a zoo in Madagascar. Further taxonomic work is required to resolve confusion between this species and D. guineti (Raxworthy et al. 2008).

Possible reasons for amphibian decline
Local pesticides, fertilizers, and pollutants
Intentional mortality (over-harvesting, pet trade or collecting)

Comments
Taken with permission from Glaw and Vences (2007).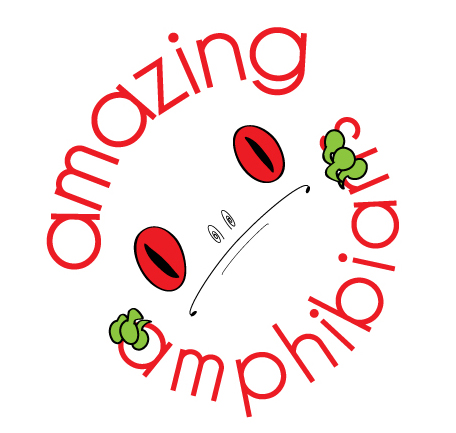 Featured in Amazing Amphibians on 7 October 2013
References

Glaw, F., and Vences, M. (2007). Field Guide to the Amphibians and Reptiles of Madagascar. Third Edition. Vences and Glaw Verlag, Köln.
Raxworthy, C., Vences, M., Andreone, F., and Nussbaum, R. (2008). Dyscophus antongilii. In: IUCN 2008. 2008 IUCN Red List of Threatened Species. www.iucnredlist.org. Downloaded on 08 April 2009.
---

Written by Miguel Vences and Frank Glaw (m.vences AT tu-bs.de), Assistant Professor and Curator of Vertebrates at the Institute for Biodiversity and Ecosystem Dynamics in the Zoological Museum at the University of Amsterdam
First submitted 2000-12-13
Edited by Kellie Whittaker; updated Ann T. Chang (2013-10-07)
---

Feedback or comments about this page.

Citation: AmphibiaWeb: Information on amphibian biology and conservation. [web application]. 2016. Berkeley, California: AmphibiaWeb. Available: http://amphibiaweb.org/. (Accessed: Oct 1, 2016).

AmphibiaWeb's policy on data use.