Mantella betsileo

family: Mantellidae
subfamily: Mantellinae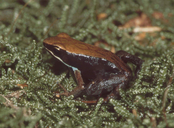 &copy 2007 Dr. Peter Janzen (1 of 10)


Conservation Status (definitions)
IUCN (Red List) Status
Least Concern (LC)
See IUCN account.
CITES
Appendix II

Other International Status
None
National Status
None
Regional Status
None
Can you confirm these amateur observations of Mantella betsileo?
Description
M ca. 18-21 mm, F ca. 19-26 mm. Back yellowish to reddish or light brown, usually with diamond shaped markings. Strong border between dorsal colouration and the blackish flanks. Light frenal stripe along the upper lip usually until snout tip. Ventral colouration black with blue spots, which are extended onto the throat. Upper half of the iris golden. Tibiotarsal articulation mostly reaches the eye.

Distribution and Habitat


Country distribution from AmphibiaWeb's database: Madagascar

Ambatondradama, Ampoza, Antratrabe, Isalo, Kirindy, Morondava, Tsingy de Bemaraha. It occurs from sea level to 900m asl in open areas, dry forest, savanna woodland, and degraded habitats (Nussbaum et al. 2008).

Life History, Abundance, Activity, and Special Behaviors
Habits: Calling and foraging both during day and night. In Kirindy, highest levels of calling activity were recorded at night near pools. One clutch, containing 35 yellowish eggs was found under a fallen log close to a forest pond.

Calls: Series of short double-click notes.

Breeding occurs in permanent and temporary still waters. The eggs are laid on land near water, and the larvae develop in temporary and permanent pools, and sometimes in brooks (Nussbaum et al. 2008).

Trends and Threats
It occurs in many protected areas (Nussbaum et al. 2008).

Possible reasons for amphibian decline
Intensified agriculture or grazing
Intentional mortality (over-harvesting, pet trade or collecting)

Comments
Taken with permission from Glaw and Vences (2007).
References


Glaw, F., and Vences, M. (2007). Field Guide to the Amphibians and Reptiles of Madagascar. Third Edition. Vences and Glaw Verlag, Köln.

Nussbaum, R., Vences, M., and Andreone, F. (2008). Mantella betsileo. In: IUCN 2008. 2008 IUCN Red List of Threatened Species. www.iucnredlist.org. Downloaded on 21 April 2009.
---

Written by Miguel Vences and Frank Glaw (m.vences AT tu-bs.de), Assistant Professor and Curator of Vertebrates at the Institute for Biodiversity and Ecosystem Dynamics in the Zoological Museum at the University of Amsterdam.
First submitted 2000-12-13
Edited by Henry Zhu (2009-05-06)
---

Feedback or comments about this page.

Citation: AmphibiaWeb: Information on amphibian biology and conservation. [web application]. 2015. Berkeley, California: AmphibiaWeb. Available: http://amphibiaweb.org/. (Accessed: May 30, 2015).

AmphibiaWeb's policy on data use.