Calotriton arnoldi
Montseny brook Newt, Trito del Montseny, Triton del Montseny
family: Salamandridae
subfamily: Pleurodelinae

&copy 2006 César L. Barrio Amoros (1 of 3)



Conservation Status (definitions)
IUCN (Red List) Status
Critically Endangered (CR)
See IUCN account.
CITES
No CITES Listing

Other International Status
None
National Status
None
Regional Status
CA
Description
Calotriton arnoldi is an aquatic endemic Iberian newt. The holotype has a snout-vent length of 58.64 mm. The maximum length for males and females is 102.25 mm and 102.62 mm respectively. The head is greatly flattened with the broadest part at the level of the eyes. The snout is blunt with convex sides when looking at the rosal view. The canthus rostralis is marked. The areas above the eyes are raised; their width is about the third of the distance between the two eyes. There are outstanding swellings present on the posterior sides of the head. The throat is posterior to the gular region. The body has oval cross-sections and some compressions that are dorsoventral. Its tubercles are tipped with widely distributed hard blunt spines on the dorsum that become smaller and more scattered on the head and flanks, scattered mainly between the vertical grooves. The caudosacral vertebrate has short, transverse processes that are not directed backwards. The cloacal swelling that is hemispherical with a sagittally lengthened opening where the grooves extend laterally. The female cloaca is cylindrical and is relatively narrow. The digits are not elongated and they are unwebbed. The tail is short (about 2/3 the snout-vent length) and it is strongly compressed on the side, very deep at the base, and tapers gradually to a blunt point (Carranza and Amat 2005).

Calotriton arnoldi is similar to Calotriton asper but mitochondrial DNA sequences differ and there are a few morphological and coloration differences, such as smaller size and fewer spiny-tipped tubercles on the dorsum in C. arnoldi. Calotrion asper also has a light and very thin brownish-orange stripe that extends from its base to the tip of its tail that is absent in C. arnoldi (Carranza and Amat 2005).

In life, the dorsum is dark and is a chocolate color with occasional light silvery-gold stippling on the sides. The pink-ivory throat is very light and is largely unspotted or has a lightly dark stippling. The venter is translucent and is a light ochre-brown color; it has dark markings that are the same color as the dorsum and has dark stippling on the sides. The cloaca has a bright reddish-orange tip. In preservative, it is a dark chocolate brown color the greyish tinge on the dorsum. The flanks and the tail sides have scattered, irregular, pale grey spots. Its underside is dark cream and is brighter under the tail. The belly is partly translucent with ambiguous dark markings on the side that consist of dark stippling. The throat has a large dark blotch and is posterior to the gular region. The throat, upper lip margins, underside of tail, and ulnar and palmar aspects of the limbs are immaculate and pale, and the tips of the digits are dark brown (Carranza and Amat 2005).

There is a variation in the pattern of the coloration of this species. The eastern population has irregular pale yellow spots on the trail and body flanks that are more abundant and apparent in post-meta-morphic newts than adults. The males of the western population have a whitish margin of snout. The pigmentation on the belly also displays slight variability that is most likely the result of individual variation and not seasonal variation (Carranza and Amat 2005; Valbuena-Ureña et al. 2013).

Distribution and Habitat


Country distribution from AmphibiaWeb's database: Spain

Calotrion arnoldi is only known from seven populations in the El Montseny Natural Park boundaries of northern Spain, specifically in oligotrophic, cold, well-oxygenated, fast running mountain streams. They appear to be found in Holm oak forests and beech forests (with a preference for the latter) at low densities between elevations of 600 and 1200 m. The populations are split into two geographic regions in the park: the western and eastern side. There is a distance of 6 km between the western and eastern populations, but there has been no observed connection between the two because the two populations have morphological differences (see "Variation"). Additionally the area between western and eastern sides does not have an adequate environment for the newts to survive as they travel. As of 2013, the total estimated count across all of the populations is 1,000-1,500 mature individuals (Carranza and Amat 2005; Valbuena-Ureña et al. 2013).

Life History, Abundance, Activity, and Special Behaviors
Adult C. arnoldi are the most active in stream habitats during the spring and autumn when climatic and hydrologic conditions are favorable. Juveniles are not often observed in the open stream and live most of their life among the rocks. They have not been observed outside of water in any of their life stages and are completely dependent on water to survive. Calotrition arnoldi is sensitive to stream temperature, only tolerating temperatures below 15 degrees Celsius, and will migrate into rock crevices during periods of severe droughts because the subterranean cold watercourse helps with their survivability. This has lead to population isolation because of temperature variation within streams. Calotriton arnoldi may have a mimetic function because its dorsal coloration resembles submerged leaves of the beech tree that it inhabits. When in distress, C. arnoldi releases a whitish, noxious, sticky, and very odorous skin secretion; it has been speculated that this is a defense mechanism against predators (Carranza and Amat 2005; Martinez-Silvestre et al. 2011; Valbuena-Ureña et al. 2013).

The Calotriton genus has a reduction or absence of lungs that lowers the buoyancy and reduces the chances of getting carried away by currents, which is why it is necessary for them to live in oxygen-rich environments (Carranza and Amat 2005).

There are no recorded observations mating in C. arnoldi, but the courtship behavior of the genus consists of males using their tails to capture and overcome the females while transferring one or more spermatophores directly into her cloaca (Carranza and Amat 2005).

Trends and Threats
Drying out of mountain streams caused by prolonged droughts in winter and summer is the most immediate threat to C. arnoldi (Carranza and Amat 2005). Additionally, mountain streams are drying out due a large amount of water getting extracted from El Montseny in order to make and sell bottled water. Their habitat has also been altered due to the effects of global warming. The preferable habitat for C. arnoldi is the beech forest that was normally found at an altitude of 1,600-1,700 m, but the beech forest has shifted upwards by about 70 m, which is beyond the range of the species because of stream drying at that altitude. Their habitat has been getting replaced by the holm oak forest that can be found at a lower altitude of 800 - 1,400 m (Carranza and Martinez-Solano 2009). This changes the ecosystem from the species preferred cold-temperature ecosystem to a tolerable Mediterranean ecosystem. This ecosystem shift makes it harder for them to move around. Human alteration of its habitat can also reduce the habitable patches, which poses another threat (Carranza and Amat 2005).

The species may possibly be threatened by pigmented skin tumors. Currently, the tumor has been restricted to the dermis and has not invaded the underlying lymph sacs or internal organs; this suggests that the tumor is benign. No skin tumors have been found in juveniles and there is a positive correlation between body size, snout-vent length, and the number of skin tumors. The source of the skin tumors is currently known, but analyses have ruled out water pollution and water composition as causes and the conditions of the newt's habitat make ultraviolet-B radiation unlikely (Martinez-Silvestre et al. 2011).

Possible reasons for amphibian decline
General habitat alteration and loss
Prolonged drought
Dams changing river flow and/or covering habitat
Subtle changes to necessary specialized habitat
Disease

Comments

Calotriton arnoldi split off from Calotriton asper 1.1 - 2 million years ago during the Pleistocene. While their distribution ranges are only separated by 25 km, they have evolved independently ever since. Additonally, although there are still similarities in morphology and behavior between the two species, there have not been any signs of hybridization, likely because of geographic isolation (Valbuena-Ureña et al. 2013).
Calotriton arnoldi is named after Dr. E. N. Arnold who is a British herpetologist with a life-long dedication and contribution to herpetology, especially European herpetology. He also guided the senior author of the species authority paper (Carranza and Amat 2005).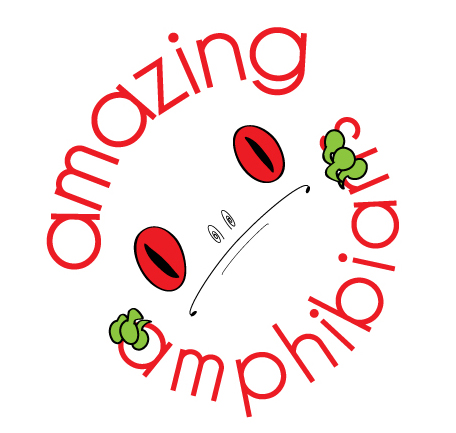 Featured in Amazing Amphibians on 21 October 2013
References


Carranza, S and Amat, F. (2005). ''Taxonomy, biogeography and evolution of Euproctus(Amphibia: Salamandridae), with the resurrection of the genus Calotriton and the description of a new endemic species from the Iberian Peninsula.'' Zoological Journal of the Linnean Society, (145), 555-582.

Carranza, S and Martínez-Solano, I (2009). ''Calotriton arnoldi. In: IUCN 2013.'' ''.'' IUCN Red List of Threatened Species. Version 2013.1.

Martínez-Silvestre, A. et al. (2011). ''Incidence of pigmented skin tumors in a population of wild Montseny brook newt (Calotriton arnoldi).'' J. Wildlife Diseases, 47, 410-414.

Valbuena-Ureña, E., F. Amat, and S. Carranza (2013). ''Integrative phylogeography of Calotriton newts (Amphibia, Salamandridae), with special remarks on the conservation of the endangered Montseny brook newt (Calotriton arnoldi).'' PLoS ONE, (8), 1-12.
---

Written by Samantha Morco (smorco AT berkeley.edu), UC Berkeley
First submitted 2013-11-20
Edited by Ann T. Chang (2014-03-05)
---

Feedback or comments about this page.

Citation: AmphibiaWeb: Information on amphibian biology and conservation. [web application]. 2014. Berkeley, California: AmphibiaWeb. Available: http://amphibiaweb.org/. (Accessed: Mar 9, 2014).

AmphibiaWeb's policy on data use.