Kaloula taprobanica
Sri Lankan Bullfrog
family: Microhylidae
subfamily: Microhylinae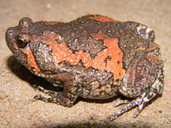 &copy 2011 Tharindu Gunathilaka (1 of 15)


Conservation Status (definitions)
IUCN (Red List) Status
Least Concern (LC)
See IUCN account.
CITES
No CITES Listing

Other International Status
None
National Status
Lower risk-least concern
Regional Status
None
Description
Maximum snouth-vent length: 75 mm, females are slightly larger than males. Colour is dorsally grey to black with an interorbital bar. Dorsolaterally reddish-orange, an orange bar from posterior edge of eye to base of upper arm. Ventral pale yellowish-grey, spotted with brown or black. Males have a dark throat during the mating period.

Distribution and Habitat


Country distribution from AmphibiaWeb's database: India, Sri Lanka

Terra Typica (Kaloula pulchra taprobanica): Punduloya, Ceylon, 4000 feet

K. taprobanica is distributed in Nepal, India and Sri Lanka. In Sri Lanka it is fround in the wet and the dry zone up to elevation of 500 m asl.

Life History, Abundance, Activity, and Special Behaviors
K. taprobanica is a fossorial species, but is also a good climber. This species is easier found after heavy rain next to human settlement: in rice fields and in water ponds along roads. Mating begins when the rain starts, and sometimes large aggregation can be found. Males call while swimming in ponds. Eggs float in a single layer on the surface of ponds. The tadpoles are black. This species is nocturnal. K. taprobanica feeds on a large variety of insects. De Silva (1995) reported feeding K. taprobanica with termites in capivity. The author has fed K. taprobanica with greater flies.

Possible reasons for amphibian decline
Local pesticides, fertilizers, and pollutants
Long-distance pesticides, toxins, and pollutants

References

De Silva, A., and De Silva, P. (1995). ''Some observations on Kaloula taprobanica (Amphibia: Anura: Microhylidae) in Sri Lanka.'' Lyriocephalus, 1(1-2), 48-51.
Dutta, S.K. and Manamendra-Arachchi, K. (1996). The Amphibian Fauna of Sri Lanka. Wildlife Heritage Trust of Sri Lanka, Colombo, Sri Lanka.
Manamendra-Arachchi, K. (2000). ''Know your frog.'' Sri Lanka Nature, 2(5), 4-16.
---

Written by Peter Janzen (pjanzen AT gmx.de), dght
First submitted 2005-05-01
Edited by Tate Tunstall (2005-05-05)
---

Feedback or comments about this page.

Citation: AmphibiaWeb: Information on amphibian biology and conservation. [web application]. 2015. Berkeley, California: AmphibiaWeb. Available: http://amphibiaweb.org/. (Accessed: Nov 28, 2015).

AmphibiaWeb's policy on data use.