Stumpffia roseifemoralis

family: Microhylidae
subfamily: Cophylinae

Species Description: Frank Glaw e-mail 4 Aug 06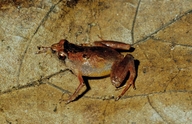 &copy 2008 Miguel Vences and Frank Glaw (1 of 1)
| | |
| --- | --- |
| | hear call (242.5K MP3 file) |
Range Description
This species was previously known from two localities in north-eastern Madagascar (Marojejy and Voloina), however the record from Voloina has found to be invalid and it has been restricted to only Marojejy National Park at 1,300 m asl. It is known from one threat-defined location and its extent of occurrence (EOO) is 780 km2.
Habitat and Ecology
It lives terrestrially in forest in leaf-litter and is probably adaptable, although it is not found in plantations. Its breeding biology is unknown, but is likely to be similar to that of Stumpffia gimmeli, which has terrestrial nests that contain non-feeding larvae.
Population
It is probably a very rare species. Due to ongoing declines in the extent and quality of habitat, the population is likely to be decreasing.
Population Trend
decreasing
Major Threats
This species' forest habitat is receding due to subsistence agriculture, timber extraction, charcoal manufacture, invasive spread of eucalyptus, livestock grazing and expanding human settlements. 

Intensive illegal wood extraction of rosewood species within Marojejy National Park that followed the 2009 political crisis of Madagascar caused concerns for the survival of rainforest–restricted species, such as this one. However, while illegal rosewood logging has probably ceased, wood extraction currently taking place in the Park seems to occur at lower elevations and is not thought to have reached elevations where this species has been recorded; along the boundaries of Marojejy deforestation is taking place to clear land for agriculture (F. Glaw pers. comm. November 2015).
Conservation Actions
Conservation Actions
It occurs in Marojejy National Park.

Conservation Needed
Improved protection and management of forests throughout the region is required, including within the boundaries of protected areas.

Research Needed
Further research to confirm the breeding ecology of this species is required.
Red List Status
Endangered (EN)
Rationale
Listed as Endangered because its extent of occurrence (EOO) is 780 km2, it is only known from one threat-defined location and there is ongoing decline in the extent and quality of habitat.
Taxonomic Notes
This species was synonymized with Stumpffia psologlossa by Blommers-Schlösser and Blanc (1991). However, we follow Glaw and Vences (1994) in treating it as a separate species. D'Cruze et al. (2007) recorded Stumpffia cf. roseifemoralis from Montagne des Français; the identity of these animals requires further study and they are not included as part of this assessment.
Citation
IUCN SSC Amphibian Specialist Group 2016. Rhombophryne roseifemoralis. The IUCN Red List of Threatened Species 2016: e.T58013A84183573. http://dx.doi.org/10.2305/IUCN.UK.2016-1.RLTS.T58013A84183573.en .Downloaded on 23 February 2019
IUCN Terms of Use