Spinomantis peraccae

family: Mantellidae
subfamily: Mantellinae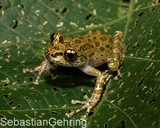 &copy 2011 Philip-Sebastian Gehring (1 of 10)
| | |
| --- | --- |
| | hear call (91.5K MP3 file) |
Description
M 34-44 mm. The only arboreal Spinomantis without distinct fringes or spines. Usually light brown to greenish on the dorsum with distinct rounded brown patches.
Variation: Specimens from Tsaratanana, have a more brownish colour and indistinct patterning and very melodious, "metallic"-sounding calls, and may represent a different species.
Similar species: M. massi has rudimentary but clearly recognizable dermal flaps. M. elegans is larger, with a less granular skin and has only an inner metatarsal tubercle. Boophis species never have an outer metatarsal tubercle.

Distribution and Habitat


Country distribution from AmphibiaWeb's database: Madagascar

Ambohitantely, Andranomay forest, Anjanaharibe, Ankazobe, Ankeniheny, Chaines Anosyennes, Farihimazava, Ranomafana (Maharira forest, Ranomena, Vohiparara). It occurs between 500m-2,000m asl in pristine rainforest (Andreone et al. 2008).

Life History, Abundance, Activity, and Special Behaviors
Habits: One specimen was found in a Pandanus leaf axil . One calling male was captured in February, about 5 m above a brook in rain forest. Several other specimens were heard along forest brooks.

Call (from Ankeniheny): A single 'explosive' short note that can be described as 'pom'. Note duration is about 75 ms. Frequency is between 1.2 and 4.2 kHz, with intensity maxima at 1.3 and 2.6 kHz. Call is repeated after intervals of at least about 30 seconds. Similar calls were heard at Andasibe.

Breeding takes place in slow-moving streams (Andreone et al. 2008).

Trends and Threats
It occurs in many protected areas (Andreone et al. 2008).

Possible reasons for amphibian decline
General habitat alteration and loss
Habitat modification from deforestation, or logging related activities
Intensified agriculture or grazing
Urbanization
Habitat fragmentation

Comments
Taken with permission from Glaw and Vences (2007).

References


Andreone, F., Vallan, D., and Nussbaum, R. (2008). Spinomantis peraccae. In: IUCN 2008. 2008 IUCN Red List of Threatened Species. www.iucnredlist.org. Downloaded on 29 April 2009.

Glaw, F., and Vences, M. (2007). Field Guide to the Amphibians and Reptiles of Madagascar. Third Edition. Vences and Glaw Verlag, Köln.
---

Written by Miguel Vences and Frank Glaw (m.vences AT tu-bs.de), Assistant Professor and Curator of Vertebrates at the Institute for Biodiversity and Ecosystem Dynamics in the Zoological Museum at the University of Amsterdam.
First submitted 2000-11-30
Edited by Henry Zhu (2009-05-06)

Species Account Citation: AmphibiaWeb 2009 Spinomantis peraccae <http://amphibiaweb.org/species/4618> University of California, Berkeley, CA, USA. Accessed Nov 24, 2020.
---

Feedback or comments about this page.

Citation: AmphibiaWeb. 2020. <http://amphibiaweb.org> University of California, Berkeley, CA, USA. Accessed 24 Nov 2020.

AmphibiaWeb's policy on data use.